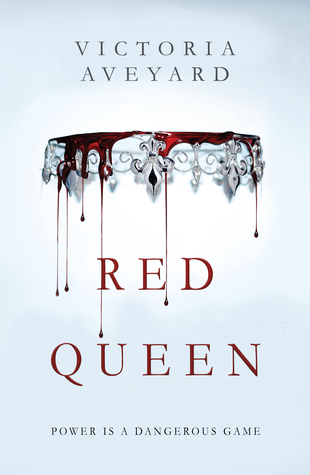 Posted by Donna
Release Date: February 10th
, 2015
Finished Date: September 26th, 2014
Publishers:
HarperTeen
Genre:
YA, Dystopia
Source: For Review
Format: eARC
Pages: 320
A thrilling new fantasy trilogy for fans of DIVERGENT and THE HUNGER GAMES.
The poverty stricken Reds are commoners, living under the rule of the Silvers, elite warriors with god-like powers.
To Mare Barrow, a 17-year-old Red girl from The Stilts, it looks like nothing will ever change.
Mare finds herself working in the Silver Palace, at the centre of
those she hates the most. She quickly discovers that, despite her red blood, she possesses a deadly power of her own. One that threatens to destroy Silver control.
But power is a dangerous game. And in this world divided by blood, who will win?
The Review: I've read a lot of fantastic books this year and I was hoping Red Queen would be the next one but it isn't just fantastic, it's absolutely phenomenal and definitely a must read of 2015!
Mare Barrow's world is divided two ways by red and silver blood. As a Red, she is counting the days until her conscription date arrives, where she will have to fight the Silver's war. But in the meantime Mare continues to work the only way she knows how – picking pockets to help her family survive, while the Silver's – the royalty – live their lives in luxury because their supernatural abilities rule the world. But when Mare is suddenly given a job at the palace working for the King, Mare discovers that she has gifts of her own, but how can that be when she has red blood coursing through her?
In an attempt to hide Mare, the King forces a new identity on her as a lost Silver Princess and now she has to marry the younger son of the King. But as that day draw near and an opportunity arise for Mare to join the rebellion come ahead, she can't help wish for her own life back and even more so when she has to push her own feelings aside for someone she's come to care for. Can Mare do the right thing and help her people survive but look after the ones she loves too?
What a phenomenal debut novel by Victoria Aveyard! I hadn't heard of Red Queen until I came across it on Goodreads. The cover alone made me want to read this book but with an intriguing plot too, and I just knew I had to read it….and I'm so glad I did. Admittedly, the story has a slow start. You all know how impatient I am so at one point I didn't have much faith that the story was going to improve – it was interesting but nothing grabbed me. But at around 15% and that was it, I was hooked and I couldn't put it down! The plot of the story is complex, compelling and very interesting. It has many twists and turns throughout the story that keep you guessing. The story also brings love, hope and betrayal and you never know who to trust.
Our main character Mare is thrown into a world she knows nothing about. Her life has changed and she's taking on a role that has to be played 100%. She cannot fail because failing means death for her and her family. I loved Mare. Yes she was a little rash at times but I felt as though her emotions were real and realistic to her surroundings. It's not an easy transition but she remains strong throughout the story and I enjoyed being able to connect with her as a character.
There are so many other secondary characters – the two princes, the king, the queen, the best friend of Mare, her family. They really added to the depth of the story and you honestly don't know who to trust for one minute!
In all, Red Queen is a fantastic read that I urge you all to read.
Thank you to HarperTeen for giving me the opportunity to review this book in exchange for an honest review.