"Waiting On" Wednesday is a weekly event, hosted by Jill at Breaking the Spine, that spotlights upcoming releases that we're eagerly anticipating.
Jess's WoW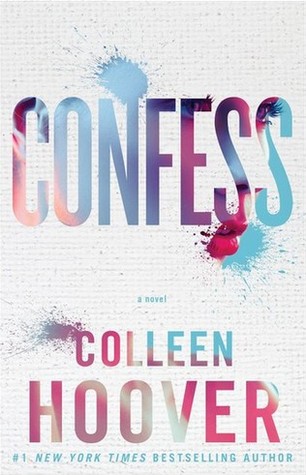 Confess
by Coleen hoover
Release Date: March 10th,
2015
Auburn Reed has her entire life mapped out. Her goals are in sight and there's no room for mistakes. But when she walks into a Dallas art studio in search of a job, she doesn't expect to find a deep attraction to the enigmatic artist who works there, Owen Gentry.
For once, Auburn takes a risk and puts her heart in control, only to discover Owen is keeping major secrets from coming out. The magnitude of his past threatens to destroy everything important to Auburn, and the only way to get her life back on track is to cut Owen out of it.
The last thing Owen wants is to lose Auburn, but he can't seem to convince her that truth is sometimes as subjective as art. All he would have to do to save their relationship is confess. But in this case, the confession could be much more destructive than the actual sin…
Jess's thoughts: I love Colleen's books. I'm behind on a couple of her stories, but I can't wait to read this one. And look how amazing that cover is!
Donna's WoW
A Wicked Thing
by Rhiannon Thomas
Release Date: February 24th, 2015
Rhiannon Thomas's dazzling debut novel is a spellbinding reimagining of Sleeping Beauty and what happens after happily ever after.
One hundred years after falling asleep, Princess Aurora wakes up to the kiss of a handsome prince and a broken kingdom that has been dreaming of her return. All the books say that she should be living happily ever after. But as Aurora understands all too well, the truth is nothing like the fairy tale.
Her family is long dead. Her "true love" is a kind stranger. And her whole life has been planned out by political foes while she slept.
As Aurora struggles to make sense of her new world, she begins to fear that the curse has left its mark on her, a fiery and dangerous thing that might be as wicked as the witch who once ensnared her. With her wedding day drawing near, Aurora must make the ultimate decision on how to save her kingdom: marry the prince or run.
Rhiannon Thomas weaves together vivid scenes of action, romance, and gorgeous gowns to reveal a richly imagined world … and Sleeping Beauty as she's never been seen before.
Donna's thoughts: I've not read a Sleeping beauty retelling yet, so hopefully this one is as good as it sounds!! =)
<
What's your "waiting on" pick this week?
Want to participate?
Grab the logo, post your own WoW entry on your blog, and leave your link at Breaking the Spine.
Happy Reading!