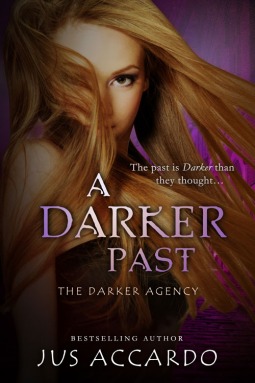 Posted by Melanie
Release Date: November 11th, 2014
Finished Date: November 9th, 2014
Publishers:
Entangled Teen
Genre: YA
, Paranoramal
Source: For Review
Format: eBook
Pages: Unknown
The past is Darker than they thought...
Between helping her mother with the Darker Agency and laying the smack down on monster baddies, Jessie Darker puts the "normal" in paranormal. But lately, things have gotten a little crazy...even for a smart-assed half-demon teenage girl.
For starters, Jessie's been contracted into fifty-five years of annoying servitude. To a demon. Then there's Lukas Scott, her sexy new boyfriend. Once the former incarnation of Wrath, he's been going through some...uh, changes. Like residual anger. And trading chaste hangouts for lusty make-out sessions.
But it's when Lukas and Jessie accidentally release a Very Nasty Demon that things get really bad, setting into motion a chain of death and mayhem that threatens both Earth and the Shadow Realm. Jessie has exactly four days to fix it...before all of Hell breaks loose.
The Review: A Darker Past is the sequel to Darker Days and second book in The Darker Agency series featuring the very awesome Jessie Darker. Following the last book, Jessie is now in service to Valefar for 55yrs in a deal that freed her father and allowed him to be with her mother full time. As he puts her to work, Jessie finds she doesn't realise what she has let herself in for being at the beck and call of a demon who has the habit of popping up at the most inopportune moments. Add to that, that she is still working for the Darker Agency on their cases and juggling her budding relationship with former Wrath demon – Lucas Scott. When Jessie and Lucas are sent to retrieve some Darker artefacts, they unwittingly set free a Demon unlike any Jessie has come across before and no amount of quartz powder will harm this piece of work but when he starts murdering witches and then chooses to come after the Darkers to get what he wants, the Darker's are in need of the Belfairs again because this demon is all about bringing Hell to Earth.
This was a great sequel and it was so easy to step into the series once again. Jessie is back with her snarktastic attitude and her kick ass ways, she still has her awesome sense of humour and I find it so easy to read her character, she's easy to gel with and connect to and her attitude is fun and always leads to trouble but that's what I love about her. I'm glad Lucas is still around and it's good to see them together still. I like that they are having differing views on where they think their relationship should go – with Lucas being from another time, he has old fashioned values and keeps everything very PG between him and Jessie, much to Jessie's frustration. I like that it shows how courtship has changed over time and it's usually the male that does the pushing, but not here. However, things are set to change as Lucas starts to go through a few changes, giving us some very steamy make out scenes with Jessie.
The storyline was just as good as the first book with still more secrets to be revealed. I love the kind of books that have a long family history and that it affects the people in present day, Jessie and her mother are always having to unravel some clues about what their ancestors had been up to in order to put things right in the present day and because it's a family with a weird history – that makes me like it all the more. The Darker family connection/rivalry with the Belfair witches heats up yet again and this makes a major stumbling block in ridding them all of the new demon but also leads us to some discoveries that will affect all involved. Not only are the humans worried about this demon being on the loose but the demons are as well and none other than Lucifer forces Jessie and Lucas to right their wrong with no help from the shadow realm or their demon associates. So they are forced to go to great lengths and confront their greatest fears in order to try and trap the demon once again leading to an eye opening conclusion that will have far reaching effects.
The book was well written, fun, with great pacing, great humour and not afraid to show us the 'Darker' side of magic & demons and I'll definitely be carrying on with the series.
4.5 flowers!
Thank you to Entangled Teen for giving me the opportunity to review this book in exchange for an honest review.