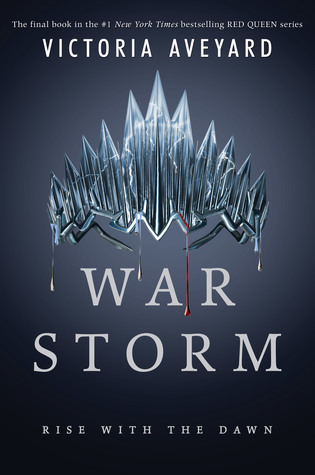 Posted by
Donna
Release Date: May 15th, 2018
Finished Date:
June 2nd, 2018
Publishers: Orion
Genre:
YA, Fantasy, Romance
Source: For Review
Format: Hardcover
Pages: 672
Buy:
Amazon UK
/
Amazon US / The Book Depo
VICTORY COMES AT A PRICE.
Mare Barrow learned this all too well when Cal's betrayal nearly destroyed her. Now determined to protect her heart—and secure freedom for Reds and newbloods like her—Mare resolves to overthrow the kingdom of Norta once and for all… starting with the crown on Maven's head.
But no battle is won alone, and before the Reds may rise as one, Mare must side with the boy who broke her heart in order to defeat the boy who almost broke her. Cal's powerful Silver allies, alongside Mare and the Scarlet Guard, prove a formidable force. But Maven is driven by an obsession so deep, he will stop at nothing to have Mare as his own again, even if it means demolishing everything—and everyone—in his path.
War is coming, and all Mare has fought for hangs in the balance. Will victory be enough to topple the Silver kingdoms? Or will the little lightning girl be forever silenced?
In the epic conclusion to Victoria Aveyard's stunning series, Mare must embrace her fate and summon all her power… for all will be tested, but not all will survive.
The Review:
War Storm is the final book in the Red Queen series by author Victoria Aveyard and if like me you have been following this series from the start then you will be seriously excited to know this finale didn't disappoint!
I was really excited to read War Storm because even though I don't want it to end, I do want it to end so I can see what happens. Catch 22! The Red Queen series has been one full of danger, deception, betrayal and sacrifice and let's not forget the romance – because that's what we're all really here for, or I am.
Plot wise War Storm was very slow to start with but it definitely picked up towards the 200 page mark and from then on out, I was glued to see what would happen. I laughed, I cried and I really felt every emotion each character was going through. Aveyard's words are very compelling it's hard not to love them.
Cal & Mare have been through so much turmoil during this series and I desperately wanted a happy ever after for them. Not only that I wanted all my favourite characters to get the ending they deserved as well. The secondary characters are second to none throughout this series, Farley, Mare's family, Kilorn to name a few. And even some characters that I hate to love like Evangeline. But Mare really has come on so far from the little lightning girl she was in Red Queen. And I'm really glad she finally discovers more about herself during this book.
I bet you're wondering why I only rated it 4 stars even after I loved it so much? Well, that ending. Seriously? After four books waiting to find out how things end for Mare & Cal and that's the ending we get? No epilogue? No ten years later? Completely gutted. I'm not one for open endings, I need closure and this ending did not provide that for me when it comes to Mare and Cal's relationship. I guess it's up to the reader to decide what happens next but me, I need an epilogue and I really hope the author considers writing one.
Thank you to Orion Publishing or giving me the opportunity to review this book in exchange for an honest review.