"Waiting On" Wednesday is a weekly event, hosted by Jill at Breaking the Spine, that spotlights upcoming releases that we're eagerly anticipating.
Jess's WoW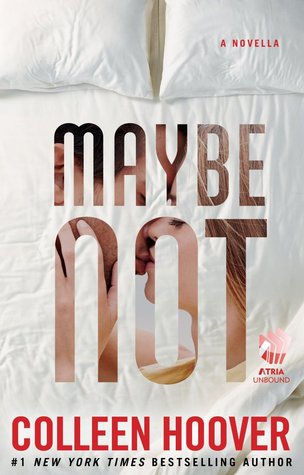 Maybe Not
by Colleen hoover
Release Date: November 24th, 2014
When Warren has the opportunity to live with a female roommate, he instantly agrees. It could be an exciting change.
Or maybe not.
Especially when that roommate is the cold and seemingly calculating Bridgette. Tensions run high and tempers flare as the two can hardly stand to be in the same room together. But Warren has a theory about Bridgette: anyone who can hate with that much passion should also have the capability to love with that much passion. And he wants to be the one to test this theory.
Will Bridgette find it in herself to warm her heart to Warren and finally learn to love?
Maybe.
Maybe not.
Jess's thoughts: Loved the first book, Maybe Someday. And although this is just a novella, I can't wait to read it and get more from these characters.
Donna's WoW
Swept Away
by Michelle Dalton
Release Date: May 5th, 2015
Beachfront love blossoms in this refreshing summer romance, in the tradition of Sixteenth Summer and Seventeenth Summer.
Mandy Sullivan isn't exactly looking forward to the summer months as tourists invade her seaside hometown on the coast of Maine. Her best friend, Cynthia, has abandoned her for camp and her older brother just announced he'll be staying at college taking classes for the summer, leaving Mandy with nothing to do and no one to hang out with. Hoping to keep herself busy, Mandy takes a volunteer job at the Rocky Pointe Lighthouse. On her very first day, Oliver Farmingham asks for a private tour. A new and incredibly cute face in Rocky Pointe, Oliver seems more interested in Mandy than the lighthouse and its history.
Without her best friend at her side, Mandy is scrambling to act the right way and say the right things when Oliver is around. Cynthia not Mandy has always been the confident, flirtatious girl that everyone wanted to be around. As Mandy and Oliver spend more time together exploring the coast, biking through the woods, and attending the local summer festivals, their budding friendship becomes much more. But with Mandy's insecurities creeping to the surface, can she open her heart to someone who will only be in town for three months?
Donna's thoughts: I finished Michelle Dalton's Pulled Under over the weekend and loved it. Swept Away will be the third book I read of her's and I can't wait! Or maybe the fourth book if I get Fifteenth Summer before May! =)
<
What's your "waiting on" pick this week?
Want to participate?
Grab the logo, post your own WoW entry on your blog, and leave your link at Breaking the Spine.
Happy Reading!