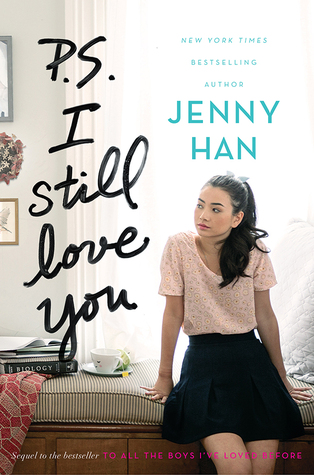 Posted by
Donna
Release Date: May 26th, 2015
Finished Date:
May 11th, 2017
Publishers: Simon & Schuster
Genre:
YA, Contemporary, Romance
Source: Bought
Format: Hardcover
Pages: 337
Buy:
Amazon UK
/
Amazon US / The Book Depo
Lara Jean didn't expect to really fall for Peter.
She and Peter were just pretending. Except suddenly they weren't. Now Lara Jean is more confused than ever.
When another boy from her past returns to her life, Lara Jean's feelings for him return too. Can a girl be in love with two boys at once?
In this charming and heartfelt sequel to the New York Times bestseller To All the Boys I've Loved Before, we see first love through the eyes of the unforgettable Lara Jean.
Love is never easy, but maybe that's part of what makes it so amazing.
The Review:
PS I Still Love You is the second book in Jenny Han's To All the Boys I've Loved Before series and if you honestly haven't read this series then I highly recommend adding it to your to-be-read pile because it's amazing!
This is the second time I've read PS I Still Love You and it was just as good as the first time. With the release of the third book I wanted to refresh myself with the series and I'm really glad I did because there was so much information that I completely forgot. Not only that but it was great to familiarise myself with these fantastic characters once again.
After the events in To All Boys I've Loved Before you go into the book with hopes that Lara Jean and Peter are together and happy and while that might be true, there is one certain girl that is willing to disrupt the happiness that the loveable couple have found together. So while I was expecting some fluffy romance, I got a heart-breaking story that really pulled on my emotions and it was still fantastic to read because Han has a way of pulling you into the characters story and not letting you leave until you've finished it.
Now I knew from the synopsis that another one of Lara Jean's boys would also play a role in this story and that was John Ambrose Maclaren. While Lara Jean and Peter are going through their relationship problems, John was really there for her. John is a great character. One that anyone could easily fall for. However my problem was he just wasn't Peter. If John had come first then maybe things could have been different but for me, I am firmly and will always be a Peter fan.
I really did enjoy this book. It has a good mixture of happy, sad, funny and emotional times and the story develops enough for you to want to read more. I can't wait to dive into the third and final book!