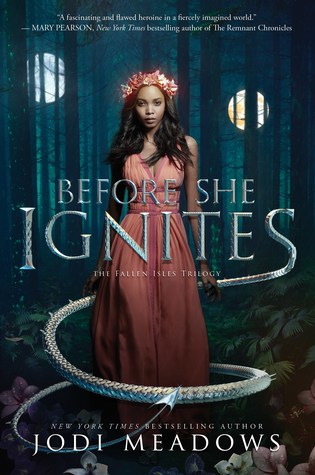 Posted by
Donna
Release Date: September 17th, 2017
Finished Date:
April 8th, 2018
Publishers: Harper 360
Genre:
YA, Fantasy, Romance
Source: For Review
Format: Hardback
Pages: 400
Buy:
Amazon UK
/
Amazon US / The Book Depo
Before
Mira Minkoba is the Hopebearer. Since the day she was born, she's been told she's special. Important. Perfect. She's known across the Fallen Isles not just for her beauty, but for the Mira Treaty named after her, a peace agreement which united the seven islands against their enemies on the mainland.
But Mira has never felt as perfect as everyone says. She counts compulsively. She struggles with crippling anxiety. And she's far too interested in dragons for a girl of her station.
After
Then Mira discovers an explosive secret that challenges everything she and the Treaty stand for. Betrayed by the very people she spent her life serving, Mira is sentenced to the Pit–the deadliest prison in the Fallen Isles. There, a cruel guard would do anything to discover the secret she would die to protect.
No longer beholden to those who betrayed her, Mira must learn to survive on her own and unearth the dark truths about the Fallen Isles–and herself–before her very world begins to collapse.
The Review:
When I heard Jodi Meadow's had a new series coming out I was over the moon. I really enjoyed her The Orphan Queen series and so I couldn't wait to dive into something else by her, however, I hate to admit I couldn't finish Before She Ignites.
I hate not finishing a book. It's definitely the hardest part about being a blogger especially if you have to review the book as well and even more so when you see other people around you enjoying the book. You can't help but think, what did I miss? But I will try and explain why I couldn't connect with this book like I was hoping to.
The story follows Mira who is a Hopebearer who is the centre of everyone's attention until one secret lands Mira the worst place the Pit – where she is sentenced to remain as a prisoner for the remainder of her life.
Mira is a beautiful young lady who doesn't deserve the punishment that has been handed down to her and while I really liked the premise of this story, it was really slow to get through. I'm really not a patient reader and while I can handle some slow books, if it doesn't drag me in within the first 100 pages then I do start to lose interest. I wasn't really a fan of the whole before and after back and forth chapters either. It found I wasn't really all that interested in what happened before and I felt disconnected to the characters.
I had a lot of issues with Mira which I wish I didn't. I liked that her character was different and struggled with everyday problems like anxiety and panic attacks but I didn't think it fit right with this particular story. I also found her sometimes vain and self-centred due to her being worshipped by everyone. Her love for Dragons is also never really explained. And the Dragons? There isn't really many parts with the Dragons in this book, so I was also disappointed.
In the end I skimmed the last 200 pages of the book which is a lot especially considering this book is almost 500 pages. I really wanted to love this book but I just couldn't.
Thank you to Harper 360 for giving me the opportunity to review this book in exchange for an honest review.