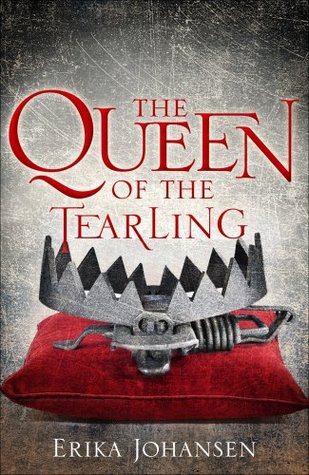 Posted by Donna
Release Date: July 17th, 2014
Finished Date: November 14th, 2014
Publishers:
Bantam Press
Genre:
Adult,
Fantasy
Source: Bought
Format: Hardcover
Pages: 448
Her throne awaits . . . if she can live long enough to take it.
It was on her nineteenth birthday that the soldiers came for Kelsea Glynn. They'd come to escort her back to the place of her birth – and to ensure she survives long enough to be able to take possession of what is rightfully hers.
But like many nineteen-year-olds, Kelsea is unruly, has high principles and believes she knows better than her elders. Unlike many nineteen-year-olds, she is about to inherit a kingdom that is on its knees – corrupt, debauched and dangerous.
Kelsea will either become the most fearsome ruler the kingdom has ever known . . . or be dead within the week.
Combining thrilling adventure and action, dark magic, mystery and romance, The Queen of the Tearling is the debut of a born storyteller blessed with a startling imagination.
The Review: The Queen of the Tearling has got to be one of my favourite debut novel of this year because Erika Johansen did a fantastic job with the story, creating a marvellous and well written story that captivates you until the very end.
On her nineteenth birthday, Kelsea Glynn must claim what's rightly hers – her throne and Kingdom. After being hidden away since birth, Kelsea has trained for this day and her future where she needs to be strong for her country, but with many secrets being kept from Kelsea, it's not until she returns home that she truly finds out what has become of her Kingdom – a Kingdom that is full of fear and a who lotteries their people to the Red Queen so they can become slaves for her. Kelsea maybe young, but she's determined to save her Kingdom….even if it kills her.
I've heard so many good things about The Queen of the Tearling and so I decided to give it a whirl too. Was that a good decision? Totally, I loved it! Usually with fantasy stories they have too many characters or too many different points of view, so that the story becomes complicated and hard to follow. Well not this book. Erika Johansen clearly knew what she was doing when she wrote this book because it's easy to follow, it's written well and yeah, it is a great read even though there are a few slow chapters.
I instantly loved Kelsea. She's a very strong character who isn't afraid to stand up for what she believes in. She takes being the Queen of a Kingdom seriously and, rarely complains about the situation she's been put in. She's down to earth and joys herself on the finer things in life, like books. She's focused on educating the children in her kingdom; helping women better their own futures and helping men find work. She does have help from the Queens' Guard but even then she had to prove herself to them, like she has to prove herself to the Tearling. She really wants to make a different to and it definitely shone throughout this book. I loved her!
Now I've finished this book though, I am left wanting more. I want more of The Fetch – who wouldn't want more? I'm curious about him as a character and as a love interest for Kelsea. There's next to no romance in The Queen of the Tearling and I honestly didn't mind, but I'd like to see more improvements in the next story. And of course, I want more of this fantastic world that has been created. A great read!