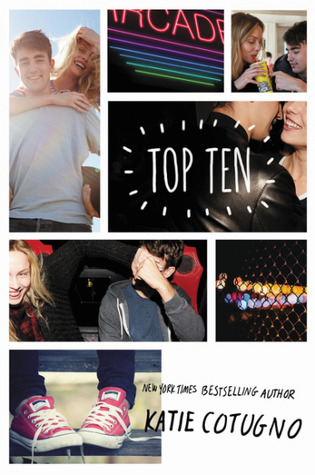 Posted by
Donna
Release Date: October 3rd, 2017
Finished Date:
August 15th, 2018
Publishers: Balzer + Bray
Genre: Contemporary, Romance
Source: For Review
Format: eARC
Pages: 320
Buy:
Amazon UK
/
Amazon US / The Book Depo
Ryan McCullough and Gabby Hart are the unlikeliest of friends. Introverted, anxious Gabby would rather do literally anything than go to a party. Ryan is a star hockey player who can get any girl he wants—and does, frequently. But against all odds, they became not only friends, but each other's favorite person. Now, as they face high school graduation, they can't help but take a moment to reminisce and, in their signature tradition, make a top ten list—counting down the top ten moments of their friendship:
10. Where to begin? Maybe the night we met.
9. Then there was our awkward phase.
8. When you were in love with me but never told me…
7. Those five months we stopped talking were the hardest of my life.
6. Through terrible fights…
5. And emotional makeups.
4. You were there for me when I got my heart broken.
3. …but at times, you were also the one breaking it.
2. Above all, you helped me make sense of the world.
1. Now, as we head off to college—how am I possibly going to live without you?
The Review:
I was excited to start Top Ten by Katie Contungo because I've read a couple of the author's other books and have always come away happy. This is no different from Top Ten, I enjoyed it but I definitely thought it could have been better.
Best friends Gabby and Ryan have always had a connection. Their friendship has never made sense to either of them because they are the complete opposite. Ryan is a popular Hockey player and Gabby keeps to herself because of her social anxiety. When one night their friendship changes into something more, this story tells us their story from becoming friends to everything that happens in between being told through their top favourite moments of their friendship.
I really liked the idea of the story being told through the character's top ten moments. It was definitely interesting but I have to say it was slightly confusing because the story jumps from different moments in the past in no particular order. So one moment could be from Junior year, while the next could be Sophomore year or Freshman year. It was honestly a little hard to keep track of the story this way. For me I felt like the story would have worked better had they had alternative chapters from past to present. Because in all honestly, it was the present story I was more interested in.
I liked both characters, Ryan more so than Gabby who struggled with several issues and refused to do anything about it all the while putting pressure on Ryan to deal with his own issues. There was some really sweet moments through the story but also some moments that really made you connect to the characters.
The ending, really? Can I even say it was an ending? I hate open endings and unfortunately Top Ten provides no conclusion to what actually happens to the characters – did they get together? Did they remain friends? I guess it's down to each person to decide but after spending the last 320 pages reading about these characters I was really disappointed by this ending. There isn't even an epilogue.
Thank you to
Balzer + Bray
for giving me the opportunity to review this book in exchange for an honest review.