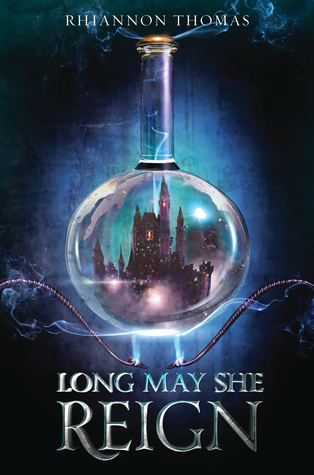 Posted by
Donna
Release Date: February 21st, 2017
Finished Date:
October 23rd, 2016
Publishers: HarperTeen
Genre:
YA, Fantasy
Source: For Review
Format: eARC
Pages: 423
Buy:
Amazon UK
/
Amazon US / The Book Depo
The Girl of Fire and Thorns meets The Queen of the Tearling in this thrilling fantasy standalone about one girl's unexpected rise to power.
Freya was never meant be queen. Twenty third in line to the throne, she never dreamed of a life in the palace, and would much rather research in her laboratory than participate in the intrigues of court. However, when an extravagant banquet turns deadly and the king and those closest to him are poisoned, Freya suddenly finds herself on the throne.
Freya may have escaped the massacre, but she is far from safe. The nobles don't respect her, her councillors want to control her, and with the mystery of who killed the king still unsolved, Freya knows that a single mistake could cost her the kingdom – and her life.
Freya is determined to survive, and that means uncovering the murderers herself. Until then, she can't trust anyone. Not her advisors. Not the king's dashing and enigmatic illegitimate son. Not even her own father, who always wanted the best for her, but also wanted more power for himself.
As Freya's enemies close in and her loyalties are tested, she must decide if she is ready to rule and, if so, how far she is willing to go to keep the crown.
The Review:
As soon as I heard about Long May She Reign by Rhiannon Thomas it immediately captured my attention because it's not often you come across YA fantasy books that are stand-alone and in my opinion there really should be more.
The story is about Feyra who is twenty third in line for throne but one night at a banquet someone poisons the guests leaving Feyra their next Queen. As Feyra tries to understand what really happens that night as well as trying to rule her new Kingdom – one she's never had interest in – she must decide if she's willing to sacrifice her freedom for her kingdom.
Long May She Reign was an interesting YA fantasy book. If I'm honest it's more like a mystery/fantasy book as the story was more centred on Feyra's journey to discover the killer and their motive for doing so. And with Feyra never having of planned to become Queen she also needs to learn everything about becoming one and how to rule and learn fast. Her interests are with experiments and being in her laboratory but now she has people to look after and a killer to stop. Feyra was very likable and it was easy to relate to her. She's also thrown into this world of politics and it was an interesting journey. One that in my opinion was a lot longer than it needed to be. I think this story would have been more enjoyable if it weren't so long as I did start to lose interest in the middle and it didn't pick up until the end.
I do wish the story had a much strong romance to it. It's there but it's such a slow burning one that I started to lose interest in it. When it did happen it was enjoyable enough.
In all, Long May She Reign was an interesting read – one that was enjoyable but not amazing. I think it definitely could done with some improvements to have helped make this story.
Thank you to HarperTeen for giving me the opportunity to review this book in exchange for an honest review.