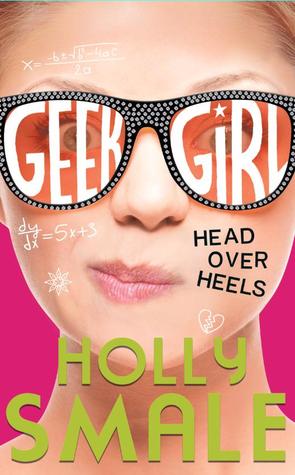 Posted by Donna
Release Date: April 7th, 2016
Finished Date:
April 6th, 2016
Publishers:
HarperCollins Children's Books
Genre:
YA,

Contemporary
Source: For Review
Format: Paperback
"My name is Harriet Manners, and I will always be a geek."
The fifth book in the bestselling, award-winning GEEK GIRL series.
Harriet Manners knows almost every fact there is.
She knows duck-billed platypuses don't have stomachs.
She knows that fourteen squirrels were once detained as spies.
She knows only one flag in the world features a building.
And for once, Harriet knows exactly how her life should go. She's got it ALL planned out. So when love is in the air, Harriet is determined to Make Things Happen!
If only everyone else would stick to the script…
Has GEEK GIRL overstepped the mark, and is following the rules going to break hearts all over again?
The Review:
I've been trying to write this review on Head Over Heels since I first read it in April but for some reason I've really struggled to find the words. I've sat down a few times and I'm still mixed with different feelings. Even now as I write this review I'm still not 100% sure on how I feel so bear with me. I adore Harriet. I adore the series and I'm always so eager to get the next book and start it straight away and Head Over Heels was no different. However, I couldn't help but feel a little disappointed when I finished it because this really did feel like a filler book. I honestly thought after so many disastrous mistakes on Harriet's part that she would have learnt her lesson by now and yes, in some ways she does but she still goes about things the wrong way and ends up in a mess all over again – even if her intentions were for the right reasons. Despite that though I do believe by the end of this story Harriet has grown up a little. She's now embracing her modelling career instead of trying to hide away from it and I did like that she was trying to help a very close friend.
Now, you all know how much of a sucker I am for romance. It's the main reason I read books. I can't live without it and as much as this book had romance in it, I didn't enjoy it one bit! And I'm totally blaming Holly Smale for this one. I just knew when I read All that Glitters that Jasper was going to become a future love interest for Harriet and as much as Jasper is a really nice character I simply didn't want their romance to happen. And yes that is because of Nick. I know many of you guys are Team Nick so I'm hoping we can all agree that this presence was completely and utterly missed him throughout this book and it just wasn't the same without him. Am I right? I think so. I understand that sometimes a character has to take certain steps in a story and Harriet's life is full of drama so why not add more of it into the mix with her love life but Holly Smale made Nick such a huge part of her life and made him so lovable that for me it was hard to move on and enjoy Harriet's story especially when you know deep down that she is still struggling with their break up. And then, THAT ENDING! I was lost for words when I read that last line. Maybe all hope isn't lost just yet but I hope Holly doesn't intend to torment us and give us hope and take it all away again. I guess time will tell when the release of book 6 comes around.
In all, as you can see I had very mixed feelings about Head Over Heels but for me it felt like a filler book and it was definitely my least favourite so hence my three star rating, but I'm hoping book 6 will make up for it as long as Harriet makes the right choices!
Thank you to HarperCollins for giving me the opportunity to review this book in exchange for an honest review.