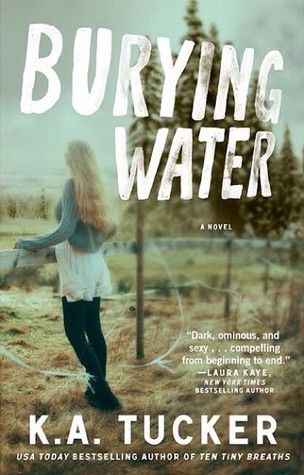 Posted by Donna
Release Date: October 7th
, 2014
Finished Date: October 18th, 2014
Publishers:
Atria
Genre:
New Adult, Contemporary, Romance
Source: Bought
Format: eBook
Pages: 368
The top-selling, beloved indie author of Ten Tiny Breaths returns with a new romance about a young woman who loses her memory—and the man who knows that the only way to protect her is to stay away.
Left for dead in the fields of rural Oregon, a young woman defies all odds and survives—but she awakens with no idea who she is, or what happened to her. Refusing to answer to "Jane Doe" for another day, the woman renames herself "Water" for the tiny, hidden marking on her body—the only clue to her past. Taken in by old Ginny Fitzgerald, a crotchety but kind lady living on a nearby horse farm, Water slowly begins building a new life. But as she attempts to piece together the fleeting slivers of her memory, more questions emerge: Who is the next-door neighbor, quietly toiling under the hood of his Barracuda? Why won't Ginny let him step foot on her property? And why does Water feel she recognizes him?
Twenty-four-year-old Jesse Welles doesn't know how long it will be before Water gets her memory back. For her sake, Jesse hopes the answer is never. He knows that she'll stay so much safer—and happier—that way. And that's why, as hard as it is, he needs to keep his distance. Because getting too close could flood her with realities better left buried.
The trouble is, water always seems to find its way to the surface.
The Review: K.A Tucker has fast become a favourite author of mine. Her Ten Tiny Breath series is absolutely fantastic and so when I heard she was writing a new series, I was over the moon and Burying Water is a great way to start the new series!
All Jane Doe knows is what she's been told. She was beaten and left for dead in the middle of nowhere and she survived – but now she has no memories. She doesn't remember anything from before and she doesn't remember who did this to her. After spending three months in hospital, it's time to leave to start a new life and with a new name – Water - after a tattoo on her body becomes the only thing she can remember. Now living with Ginny Fitzgerald, the old lady who makes quilts, Water starts to slowly rebuild her life and her attempts at remembering her past are slow coming. But the more time she spends with Jesse - the next door neighbour's son, the more she feels at home with him. But who is Jesse really?
Jesse knows how much pain it will cause Water if she ever gets her memories back because Jesse's a big part of Water's past and he'll do anything from keeping her getting hurt again - even if that means staying away. But how can he stay away from the one girl he's ever loved?
I had a rocky start with Burying Water; I honestly thought I was going to have to give up. I was 40% through the story and not much had happened but I'm glad I stuck with it because the best was yet to come. Once I hit that 40% mark, the story moved along quickly and K.A Tucker really turned the story around and pulled off a great read!
The story is told from alternative narratives. We have Jesse telling the story from the past and Water telling the story from the present day. With Jesse's point of view we see the back story of Jesse and Water and we discover how their stories are tied to one another. It's not hard from the moment you read the first few chapters that you unravel the plot of the story. And while it did take that element of surprise from the story, it didn't take away the enjoyment of reading the story and the true meaning behind it - that true love will always come out on top.
Water's story is dark and quite disturbing. Her situation isn't one I'd wish on anyone but I felt as though Water handled it the best she could. I think deep down, it was the fresh start she needed and wanted. Jesse is like Water's light. With him she feels whole and loved. He treats her right and really cares for her, but with Water not remembering that Jesse is tied into her past, it's was a really intense time because even though she doesn't remember - she feels things for him she can't explain. I was a ball of nerves waiting for her to discover her past. It was explosive when she did but it was done in a great way. I really enjoyed Jesse and Water as characters. They had a lot to offer the story and their points of view worked well together. I really loved Ginny and Jesse's family too. They had a huge presence in the story making them fantastic secondary characters - ones that you became to really care about.
In all, Burying Water did have a slow start but stick with it and you'll discover that K.A Tucker can deliver another great start to a new series and I'm really interested to read more in Luke's story Becoming Rain.