"Waiting On" Wednesday is a weekly event, hosted by Jill at Breaking the Spine, that spotlights upcoming releases that we're eagerly anticipating.
Donna's WoW
With Every Heartbeat (Forbidden Men #4)
by Linda Kage
Release Date: March 2nd, 2015
*New Adult Romance*
**Explicit Scenes and Language**
I used to think everything was black and white, truth or lie, easy or hard, that if I could just escape my strict, overbearing, abusive father, my life would be perfect. But since I've found a reason to risk his wrath and leave, to help a friend in need, I've come to realize everything I thought I ever knew is wrong.
Friends have their own agenda, honesty come with a dosage of lie, easy doesn't even exist, keeping secrets sucks, and love...love is the most painful thing of all.
Maybe if Quinn Hamilton hadn't asked me to skip classes for the day and help him pick out an engagement ring for my best friend, I wouldn't have fallen for him so completely on that sunny Tuesday afternoon and I wouldn't feel so conflicted. But I did, and I can't take it back, no matter how hard I try. So I have to deal with the fact that even I'm not as good, or honest, or caring as I'd always thought I was, and no matter what I do next, someone's going to get hurt. Probably me.
-Zoey Blakeland
*Don't worry! The hero and heroine are not cheaters.*
Donna's thoughts: I'm so eager for another book by Linda Kage and I adore this series so I'm even more excited than normal. And Quinn? More Quinn? YES PLEASE!
Melanie's WoW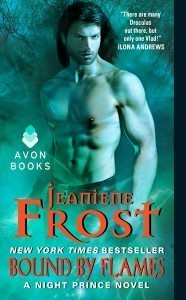 Bound by Flames (Night Prince #3)
by Jeaniene Frost
Release Date: 27th January, 2015
Play with fire, pay the price.
Leila's years on the carnie circuit were certainly an education. What she didn't learn: how to be a vampire, or how to be married to the most famous vampire of them all. Adjusting to both has Leila teetering on a knife edge between passion and peril, and now the real danger is about to begin…
Vlad must battle with a centuries-old enemy whose reach stretches across continents and whose strength equals his own. It isn't like Vlad to feel fear, but he does…for Leila, because his enemy knows she is Vlad's greatest weakness. As friend and foe alike align against him—and his overprotectiveness drives Leila away—Vlad's love for his new bride could be the very thing that dooms them both…
Melanie's thoughts:
Jeaniene Frost? Vlad & Leila? More from the Night Huntress world? YES PLEASE!!!
<
What's your "waiting on" pick this week?
Want to participate?
Grab the logo, post your own WoW entry on your blog, and leave your link at Breaking the Spine.