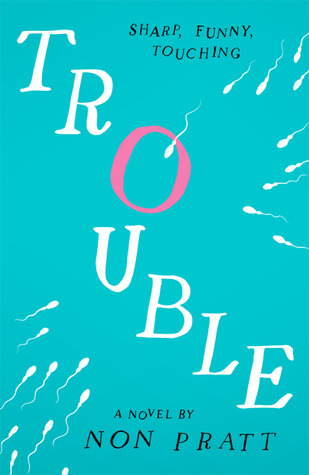 Posted by Donna
Release Date: March 6th, 2014
Finished Date:
December 17th, 2014
Publishers:
Walker Books
Genre:
YA, Contemporary, Romance
Source: Bought
Format: Paperback
Pages: 384
In this dazzling debut novel, a pregnant teen learns the meaning of friendship—from the boy who pretends to be her baby's father.
When the entire high school finds out that Hannah Shepard is pregnant via her ex-best friend, she has a full-on meltdown in her backyard. The one witness (besides the rest of the world): Aaron Tyler, a transfer student and the only boy who doesn't seem to want to get into Hannah's pants. Confused and scared, Hannah needs someone to be on her side. Wishing to make up for his own past mistakes, Aaron does the unthinkable and offers to pretend to be the father of Hannah's unborn baby. Even more unbelievable, Hannah hears herself saying "yes."
Told in alternating perspectives between Hannah and Aaron, Trouble is the story of two teenagers helping each other to move forward in the wake of tragedy and devastating choices. As you read about their year of loss, regret, and hope, you'll remember your first, real best friend—and how they were like a first love.
The Review:
I'll be honest, Trouble never really captured my attention until I went to an author Q&A/signing when Non Pratt visited Birmingham close to the end of 2014. It was then that I became more aware of the book and noticed the high praises. I adore YA contemporary but sometimes when something different comes along – like Trouble appeared to be – I hesitate. I start worrying if it's going to be any good and if I'm going to enjoy it. I guess you could say I just needed a push in the right direction and going to the author signing was definitely the push I needed.
Trouble is Non Pratt's debut novel and what an amazing story it is. After just a few pages I was quickly hooked and I found myself quickly devouring the story. Problem was, I was buddy reading the story with a fellow Goodreads friend and I had to force myself to slow down so I didn't finished it within a matter hours. I just wanted to unravel the story because I found myself completely hooked by Aaron and Hannah's stories.
Told from both Aaron and Hannah's prospective, we first meet Hannah who enjoys going out with friends and getting drunk every weekend. It's clear that Hannah is trying to get over a boy because she gets drunk to distract herself and tries to find comfort in any other boy's arms. But when Hannah discovers she's pregnant – at fifteen – Hannah needs someone in her corner because once she tells her parents, she knows she's going to be in trouble when she reveals who the real father is.
Aaron – new boy at school – tries to fit in with the new crowd of friends but finds it difficult because of the difficulties he's trying to overcome. It's clear something terrible has happened to him but he blames no-one but himself. So when he discovers that Hannah is pregnant, he offers to pretend to be the father.
As Hannah and Aaron's stories slowly come together, it's clear to discover these troubled teens have so much more in common and together they try to overcome the difficulties of their lives together.
Like I said before, Trouble is an amazing read. It's beautiful, raw and very real. I loved how Non Pratt really captured the real life issues that teens go through daily. I knew quite a few people in school who were like Hannah's friends and it's easy how you forget things over the years. Reading Hannah's story about her drinking, sex and smoking, honestly it made me cringe, but these are the things that happen in ever day life for some teenagers. It felt realistic, honest and it's a brave story.
I loved both Aaron and Hannah. I didn't always agree with their actions but could always sympathise with them. Together, they were perfect. Even though it appeared to be just a friendship relationship – although I was rooting for more – but I could see why romance wasn't added. These two didn't need it in their lives because at that point of their lives, friendship was enough. It's a tale of true best friends.
I bet your wondering why I didn't rate it 5 stars if I loved the story so much. Well, that's because of the ending. I loved how the story ended but just felt as though it needed more. It ended too soon after a major moment. I wanted to know what happened next. An epilogue would have been fantastic!
In all, Trouble was a pleasure to read and I wish there were more stories out like it. I'll definitely been on the lookout for Non Pratt's next novel.