We're hear today to let you know of the first two titles to be published in the new Red Eye horror series for teens from Stripes Publishing. So do you like young adult horror? Well then these two books are right up your street!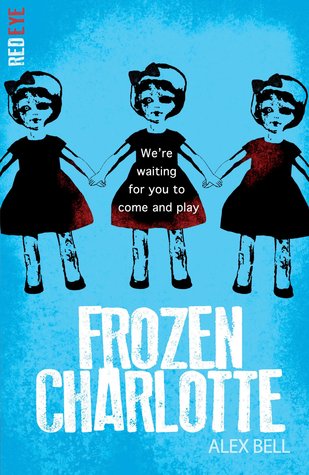 Frozen Charlotte
by Alex Bell
Release Date: January 5th, 2015
Publishers:
Stripes Publishing
Genre:
YA, Horror
We're waiting for you to come and play.
Dunvegan School for Girls has been closed for many years. Converted into a family home, the teachers and students are long gone.
But they left something behind...Sophie arrives at the old schoolhouse to spend the summer with her cousins.
Brooding Cameron with his scarred hand, strange Lilias with a fear of bones and Piper, who seems just a bit too good to be true.
And then there's her other cousin.
The girl with a room full of antique dolls.
The girl that shouldn't be there.
The girl that died.
Could you tell us about Frozen Charlotte?
Frozen Charlotte is a YA horror story about a girl whose best friend dies after they muck around one night with a Ouija Board app. She thinks that they might have accidentally let her dead cousin, Rebecca, escape out of the board so she travels to a remote Scottish island to stay with her uncle and surviving cousins to find out more about Rebecca's suspicious death. They live in an old converted schoolhouse perched on the cliff top, with a burnt dead tree in the garden, a bedroom filled with antique Frozen Charlotte dolls and a family who are all keeping secrets from one another. Nothing is quite what it seems and a ghostly presence seems to haunt the house. How did Rebecca die all those years ago and do the Frozen Charlotte dolls *really* move around a night when nobody is watching?
How did you come up with the idea for the book?
I originally intended the dolls in the story to be voodoo dolls but, whilst researching, I stumbled across the Frozen Charlotte ballad. I loved the idea of these creepy old white porcelain dolls that were based on a dead girl from the Victorian era and everything else took on from there. I remember messing around with a home-made Ouija Board with my friends at school so that gave me the idea for the app in the first chapter. And I wanted to use the Isle of Skye for the location because I love that kind of remote, creepy, very traditional horror story setting. I'm a total sucker for anything Gothic!
How long did it take to write?
Two months for the first draft.
What was the most challenging thing about writing this book?
Probably the tight deadline! I had to write about a third of it whilst I was on holiday on a ship sailing around Aruba, Columbia and the Panama Canal. Everyone else was on deck drinking cocktails in the sun whilst I was down below, drinking coffee and writing like a lunatic. It was over Halloween, though, so there were a lot of paper skeletons, giant cobwebs and ghoulish pumpkins all over the place, which helped get me in the mood. I was in the middle of writing one of the spookiest chapters one day when the huge paper skeleton on the wall next to me suddenly fell down and made me scream. I get a bit on edge when I'm writing horror! I think the staff and other passengers were all very confused by me.
Who is your favourite character?
Cameron is my favourite character. He's the oldest of the cousins and, although a skilled pianist, he can only play with one hand because the other was injured in a fire that took place at the house years ago. I'm also really fond of Lilias, the youngest cousin. She suffers from cartilogenophobia - fear of bones. Including the ones inside her own body.
What is your favourite quote?
"Success is relative. It is what we can make of the mess we have made of things." T.S.Eliot
What's next for you?
I'm working on another book at the moment, also YA, and I have a gruesome short story about Jack the Ripper coming out in May in the Mammoth Book of Tales from the Vatican Vaults anthology.
About the Author: Alex Bell always wanted to be a writer, but embarked upon a Law Degree as back-up plan, writing no fewer than six novels during her time at university. Now the published author of The Ninth Circle and Jasmyn, Alex happily dwells in an entirely make-believe world of blood, madness, murder and mayhem.
Also publishing also this month is Sleepless by Lou Morgan.
Sleepless
by Lou Morgan
Release Date: January 5th, 2015
Publishers:
Stripes Publishing
Genre:
YA, Horror
Young, rich and good-looking, Izzy and her friends lead seemingly perfect lives.
But exams are looming – and at a school like Clerkenwell, failure is not an option.
Luckily, Tigs has a solution.
A small pill that will make revision a breeze and help them get the results they need.
Desperate to succeed, the group begin taking the study drug.
It doesn't take long before they realize there are far worse things than failing a few exams.
Next stop on the tour is http://www.yayeahyeah.com/