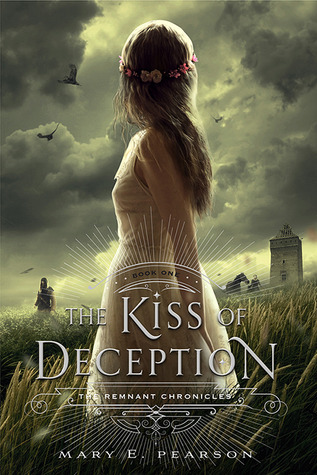 Posted by Donna
Release Date: July 8th, 2014
Finished Date:
December 27th, 2014
Publishers:
Henry Holt and Co.
Genre:
YA, Fantasy, Romance
Source: Bought
Format: Hardcover
Pages: 486
A princess must find her place in a reborn world.
She flees on her wedding day.
She steals ancient documents from the Chancellor's secret collection.
She is pursued by bounty hunters sent by her own father.
She is Princess Lia, seventeen, First Daughter of the House of Morrighan.
The Kingdom of Morrighan is steeped in tradition and the stories of a bygone world, but some traditions Lia can't abide. Like having to marry someone she's never met to secure a political alliance.
Fed up and ready for a new life, Lia flees to a distant village on the morning of her wedding. She settles in among the common folk, intrigued when two mysterious and handsome strangers arrive—and unaware that one is the jilted prince and the other an assassin sent to kill her. Deceptions swirl and Lia finds herself on the brink of unlocking perilous secrets—secrets that may unravel her world—even as she feels herself falling in love.
The Review:
Fascinating, gripping and highly entertaining, The Kiss of Deception is a YA fantasy at its best!
Princess Lia is the First Daughter of the House of Morrighan and is promised to the Prince of Dalbreck by her parents against her wishes. Leaving Lia no other choice, she flees on her wedding day knowing that once she leaves, she can never return. Now living out her life with her friend Pauline in a quite village Terravin, it's there that Lia tries to forget about her old life and try to become someone else. But what Lia doesn't know is that people are hunting her for their own goals and soon it brings the arrival of two strangers to Terravin who both have their eyes of Lia. Drawn to both of these men, Lia quickly realises that they both have secrets but can Lia risk getting close to them when she's trying to hide who she really is?
I had my doubts before starting this book just because I've seen so many mixed reviews. So I tried to go into the story without any expectations and you know what? I'm glad I did because this just proves that if I had listened to the other reviews, I probably wouldn't have read this story and then I would have missed out on such a beautiful read!
I completely fell in love with The Kiss of Deception. It's quite a lengthy book, just fewer than 500 pages and although no real action happens towards the midway point, there was always something going on to keep me completely engrossed by the story. And yes, I'm talking about the love triangle. The most frustrating love triangle I've read in a long time but it was also the best I've read about too.
The story is told from Princess Lia point of view but we also get The Prince and The Assassin's point of view. This adds to the mystery of the boys because Mary E. Pearson writes this story so cleverly that you don't know who is who out of the two love interests because soon you get chapters from Rafe and Kaden – but who is The Prince and who is the Assassin? I absolutely loved trying to figure out who was who. It was so suspenseful that I thought I would burst and I couldn't make my mind up. I was rooting for one guy from the start and I just didn't even want to imagine if Lia ended up with the other one. So, well done Ms Pearson for writing a fantastic love triangle!
The story isn't just centred on the romance though. It's about a Lia trying to have a life that it hers and I loved her for it. She's very head strong, stubborn and in my mind, a perfect fit to be Queen. I admired her determination throughout the story and loved how independent she was. You won't get no sulking from this girl! Not only that, the plot of the story is also surrounded by political issues between the different kingdoms and there is an ancient prophecy that has been foretold. As these issues come closer to the end of the story, by the time I'd finished, I was left wanting more. And be prepared for a killer ending, talk about amazing! As soon as I'd finished this book the sequel – The Heart of Betrayal – was put straight on my wish list. The release cannot come soon enough!
In all, take a chance on The Kiss of Deception and I promise you won't be disappointed but left completely captivated by Ms Pearson's work.
4.5 flowers!