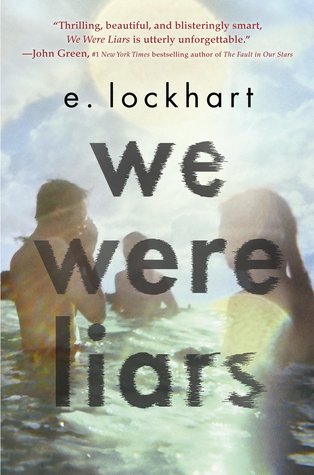 Posted by Jess
Release Date: May 13th
, 2014
Finished Date: June 13th, 2014
Publishers:
Hot Key Books
Genre:
YA Contemporary, Mystery
Source: For Review
Format: Paperback
Pages: 240
A beautiful and distinguished family.
A private island.
A brilliant, damaged girl; a passionate, political boy.
A group of four friends—the Liars—whose friendship turns destructive.
A revolution. An accident. A secret.
Lies upon lies.
True love.
The truth.
We Were Liars is a modern, sophisticated suspense novel from National Book Award finalist and Printz Award honoree E. Lockhart.
Read it.
And if anyone asks you how it ends, just LIE.
The Review:
I was excited for this book. I'd read the blurb and thought it had a very good premise. Sadly, it all fell a little flat for me. I was so hoping to enjoy it, but I couldn't connect with any of the characters and when that happens, I find myself not really enjoying or caring about what happens to them.
I honestly had high hopes, and even though I wanted to love it, I didn't, and it mostly came down to it being a little too YA for me. For a character supposed telling the story from the age of 18, it all felt a little too young for me. Granted, the story begins at age 15, but it wasn't enough for me to get truly involved into this story. I originally went in thinking these were going to be spoiled rich kids (seniors in high school) who all lived close by, I was expecting what we got in this book, although it didn't let the book down for me, it just wasn't what I thought. I hadn't read any reviews, so I went in completely blind, and solely based on the blurb, so I had no real expectations, but it still felt a little bit of a let down.
Now, don't get me wrong, I think the author definitely had a story to tell, and a definite knack for story telling, I just felt that the narrative was a little wishy washy, and it all felt a little here and there, and up and down, and like I said, a little too young and naive for my taste, but hey, that's just my taste and my own opinion.
Overall, not a book for me, which is unfortunate, but it's got a lot a happy followers who did love it, so maybe give it a go and see what you think. It's best not to go in with high hopes or expectations for fear of a let down.
Thanks to Hot Key Books for sending a copy of this book in exchange for an honest review.