The Spell of Summer
by Dianna Hardy
Release Date:
June 17th, 2014
Words can change everything, but can they change your destiny?
Meredith is leading a straight-laced life in London with her straight-laced fiancé, determined to forget her reckless, wild-child past. They're about to get married.
Jamie is an old, poetic soul with a broken heart returning home to Cornwall to get his life back in order.
What binds them?
One chance meeting thirteen summers ago; one innocent spell spoken after one perfect night...
And now history is unravelling; the past and present, merging...
Words can change everything, but can they change your destiny?
And in the messy world of magic, what part does love play?
It's summer all over again, but the spell has only just begun.
An Accidental Spell, First Love, Second Chances and a Giveaway!
Living, loving and letting go… These are the themes for The Spell of Summer, book one in a brand new, magical contemporary romance series, by Dianna Hardy. Completely different from her other works, this series touches on real life issues and emotions, all set by the sunny shores of Cornwall, and is a heartfelt, summer read, with a slight, magical kick. It can be read as a standalone.
If you loved Practical Magic, you'll love this gem!
What reviewers have said:
"...a wonderful contemporary romance with a paranormal twist." (Book Reviews By Lynn)
"...addictive and amazingly wonderful." (The Paranormal Bookshelf)
"Dianna always manages to touch me with her writing and this one was no different, I felt a LOT! This beautiful book proves that Dianna really can turn her hand to anything!" (Fiction Fascination)
Dianna Hardy is the international bestselling author of The Witching Pen series, and the Eye Of The Storm series. She writes paranormal / urban fantasy and contemporary fiction that's twisted in plot, big on the romance, high on the erotic, with a dusting of humour. She currently lives in Surrey (United Kingdom) with her partner and their daughter, where she writes full-time.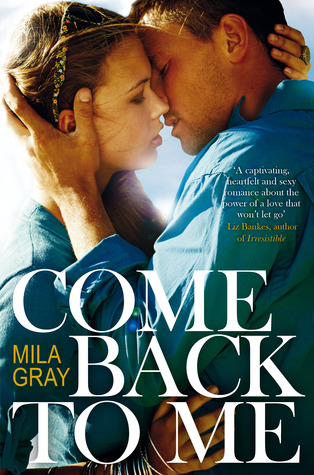 Come Back to Me
by Mila Gray
Release Date: June
19th, 2014
Genre:
NA, Contemporary, Romance
Home on leave in sunny California, Marine and local lothario Kit Ryan finds himself dangerously drawn to his best friend's sister, Jessa - the one girl he can't have.
But Kit's not about to let a few obstacles stand in his way and soon Jessa's falling for his irresistible charms.
What starts out as a summer romance of secret hook-ups and magical first times quickly develops into a passionate love affair that turns both their worlds upside down.
When summer's over and it's time for Kit to redeploy, neither Kit nor Jessa are ready to say goodbye. Jessa's finally following her dreams and Kit's discovered there's someone he'd sacrifice everything for.
Jessa's prepared to wait for Kit no matter what. But when something more than distance and time rips them apart they're forced to decide whether what they have is really worth fighting for.
A breathtaking, scorchingly hot story about love, friendship, family and finding your way back from the edge of heartbreak.
Hot boy in uniform? Check. Super sexy summertime romance? Check. Heartbreak and loss? Check. Kissing and more? Check Check Check.
If you love Alex and Jack then guaranteed you'll love Kit and Riley – the guys from Sarah Alderson's newly released New Adult book COME BACK TO ME (Pan Macmillan) penned under the name MILA GRAY.
Not only is it set in Oceanside just like Hunting Lila but Kit and Riley are also Marines based at Pendleton. That's where the similarities end however… there are no psys. But there's way more steam…
Follow Sarah's alter-ego Mila Gray and find out more about the book which will be released in June.
What reviewers have said;
"Absolutely heart-breaking, Come Back to Me is a whirlwind of a roller-coaster that will leave you an emotional mess!" (Book Passion for Life)
"Come Back To Me is a tender, heartbreaking love story that will tug at your heart strings and have you reaching for the tissues more than once." (The Shadow Realm)
"Come Back to Me, really was a gorgeous but heart breaking read, I loved watching the relationship between Jessa and Kit develop...." (The Readers Den)
Win a chance to come to tea (with a friend) to meet Mila Gray!
Sarah is also running a contest at moment where if you review Come Back to Me on amazon you can win a chance to come to tea (with a friend) with me in London on 2nd August at a blogging tea event. Want to enter? All you need to do is comment and like this post once you have reviewed the book; HERE! Click here! Remember to tag Mila Gray in the post too, so she knows you've entered!
Mila Gray is the pen name for Sarah Alderson, author of Hunting Lila, Losing Lila, The Sound, Fated and Out of Control.
Originally from London she has lived in Bali for the last four years with her husband and daughter.
As well as writing young adult fiction under the name Sarah Alderson and adult fiction under the name Mila Gray, she also writes screenplays.
Giveaway
Both Dianna Hardy & Mila Gray have kindly offered ONE winner a copy of their book.
All you need to do is enter via the rafflecopter details.
The copy of Come Back to Me will be send to the winner after 2nd August this is so we can get it signed for you.