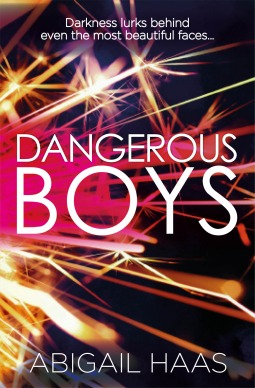 Posted by Jess
Release Date: August 14th
, 2014
Finished Date: June 26th, 2014
Publishers:
Simon & Schuster UK
Genre:
Older YA Contemporary, Mystery
Source: For Review (Netgalley)
Format: eARC
Pages: 300+
Three teens venture into the abandoned Monroe estate one night; hours later, only two emerge from the burning wreckage. Chloe drags one Reznick brother to safety, unconscious and bleeding; the other is left to burn, dead in the fire. But which brother survives? And is his death a tragic accident? Desperate self-defense? Or murder?
Chloe is the only one with the answers. As the fire rages, and police and parents demand the truth, she struggles to piece together the story of how they got there-a story of jealousy, twisted passion, and the darkness that lurks behind even the most beautiful of faces.
The Review: When I finished the first book (Dangerous Girls...review here), I was so bloody excited to find out that she was writing another one of the similar name. I had to have it. And when I saw that it was available to request on Netgalley, I requested it immediately.
I really love this book. I wasn't as involved from the start as I had been in the first book, but it was still so gripping and incredibly well written. I had absolutely no idea where some of it was going. Abigail Haas is very good and what she does and this one kept to her writing traits, of mystery, confusion and twists. I liked the whole concept of 1 girl and two boys, I really liked Ethan, and then Oliver showed up and I liked him too. I could see the difference between the brothers, and I could see the struggles that Chloe went through, however I didn't agree with some of her choices, and a lot of her inner monologue had me rolling my eyes because I could see how easily swayed she was by Oliver. The story is told in the present and the past, and it builds up over the book to what happened that night in the house, where 3 go in and only 2 come out. Alive. What we don't know when starting is which boy survived and
which
boy is dead.
A lot of this book revolved around the choices that we make in life, and that some of those choices, have the biggest of consequences, not just on you, but on those around you.
Abigail Haas is very good at writing mysteries, The way she weaves the clues in over the turn of each page, the way she builds up the mystery and the relationship between Chloe and the two boys. As I was reading I was thinking "I really like this, but I definitely love Dangerous Girls more", and that still stands. I only say that because although this book was great, I wasn't completely invested in it as much as the first, and I couldn't really put a finger on to why, there was just something maybe less intense? I don't know, it was still great, and I liked it, it just wasn't completely epic like Dangerous Girls.
Overall, this book was great. I liked it. Abigail Haas has a knack for mystery and it's
definitely
what she does best. If you're looking for another mystery, filled with love, jealousy and learning from your mistakes, and realising that the choices that you make, aren't always the right ones, it doesn't matter how well, you think yo know something, or someone.
I requested this book from Netgalley, and I thank Simon & Schuster UK for accepting my request in exchange for an honest review.
Note: I recommend this book for ages 17+ due to some adult scenes.