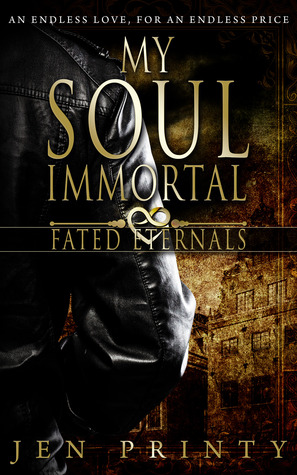 Posted by Melanie
Release Date:
February 15th, 2014
Finished Date: June 16th, 2014
Publishers:
Red Adept Publishing, LLC
Genre:
YA, Urban Fantasy, Paranormal, Romance
Source: For Review
Format: eBook
Pages: 310
An endless love, for an endless price.
Jack's immortality is exposed when he prevents a liquor store heist, forcing him to flee to protect his secret—a secret not even he understands. But when he meets Leah Winters—a mirror image of his decades-lost love, Lydia—his very soul is laid bare. He begins to question his sanity. Is she real, and if so, what does that mean for Jack and his secret?
Jack's not the only mystery man in town. A stranger named Artagan hints at knowledge Jack is desperate to possess. But can he trust Artagan, or does the dark newcomer harbor deadly secrets of his own?
As Jack's bond with Leah grows, so does the danger to her life. Jack must discover just how much he is willing to risk in order to save the woman he already lost once
The Review:
I have mixed feelings about this book, in one respect – I liked it – but in another – I didn't - and nearly stopped reading.
The biggest problem was that the first 30% was so slow and really dragged, the main character was very introspective for the most part and there was very little interaction with others and his mood was so depressing – I pitied him, yes – but he could give any emo a run for their money and it wasn't holding my interest. I struggled, really struggled and I was actually going to stop reading but I hate leaving a book that I have started and to be honest – it did get better, a lot better so much so that the latter part of the book was really good – so I'm glad I stuck with it but the beginning affected everything about how I felt about the book as a whole and the characters because I couldn't connect emotionally with them, I did like them and wanted them to have their HEA but that's about it connection wise.
I did enjoy the story once it got started and liked the idea behind the 'Fated Eternals'. I thought both Jack and Leah made a lovely couple and the soul deep connection was portrayed well. I loved Jack's protectiveness towards Leah which is understandable given his history and I loved how Leah's art connected to their history. I wouldn't say this is a typical tale of reincarnation, there are some differences that are explained throughout and it's a nice concept. As with most books about immortality, there is usually some sort of governing body of elders which there is in this and that is where hints of a threat come in…. It is quite complicated but to hint of the way things come about will spoil major reveals so I will just add that they are a mysterious, unusual bunch of immortals with jobs to do and with every group of immortal people you get good ones and you get bad ones and with eternity on your side…. The possibilities are endless and people get bored. The threat posed to Jack & Leah was quite heart-breaking and led to me finally 'feeling' for them and Jack was most chivalrous to an ending that brought about a most satisfying conclusion and a whole lot of 'I didn't see that coming'! So, from a really slow start, this turned into a quite enjoyable read.