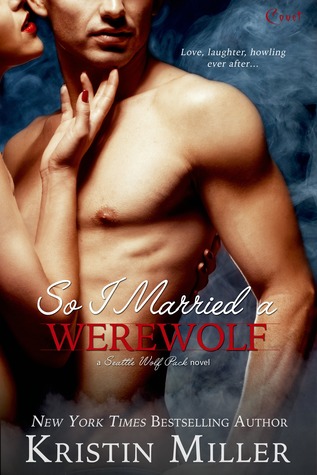 Posted by Donna
Release Date:
July 28th, 2014
Finished Date: July 19th, 2014
Publishers:
Entangled Covet
Genre:
Adult, Paranormal, Romance
Source: For Review
Format: eARC
Pages: 260
Carter Griffin, enforcing officer for the Seattle Wolf Pack, has a problem. He's been offered the promotion of his dreams…if he can find a wife to prove he's over his playboy ways. But Carter's already walked the matrimonial road and bought the stinkin' T-shirt. Besides, a werewolf only gets one fated mate. Been there, done that.
All werewolf dog trainer Faith Hamilton wants to do is earn enough green stuff to put her younger brother through college. Okay, okay, so she also totally wants Carter, her sexy next-door neighbor, to look at her as more than a friend. It's too bad size 12 and plain isn't his type. At all.
The two friends strike a deal to help one another out. They must face a variety of challenges from a psycho ex-girlfriend to a Yorkie with a shoe fetish...and that pesky problem of only having one-fated mate in a lifetime. Will a relationship ruin their friendship…or spark a love neither anticipated?
T
he Review:
So I Married a Werewolf is the third book in the Seattle Wolf Pack series by Kristen Miller and brings us the well-loved scenario of friends to lovers with a nice marriage of convenience thrown on for good measure, giving a very satisfying story.
I loved both of our characters and they are definitely a couple who belong together –even if they can't see it and everyone else can- and share a beautiful chemistry based on a strong friendship. Faith is a girl who is comfortable in herself, her life is all about making sure her brothers college dreams come true and making enough money to make that happen. She doesn't need to make an effort with herself and isn't bothered about a boyfriend because of past experiences, but that doesn't mean that she isn't crushing on Carter – hard! She has a tragic past that left her with a visible scar that makes her feel unattractive so hiding behind baggy clothes is the norm for Faith, so no one ever really sees just what she has to offer in the curves department until she starts dressing for her part as Carter's 'fiancee' and he sees her in a whole new light. Carter propositions his best friend into agreeing to a sham marriage in exchange for funding her brothers college tuition and hopefully Carter finally getting a promotion to detective. He's worked hard for the place and has a rival for the position who is engaged which is really what his bosses are looking for – a mated man- showing them a stable, settled wolf who can focus on the job. Faith has feelings for him in a big way and has doubts that she can 'pretend' when her feelings are already involved but Carter is determined to keep this as purely an arrangement between two friends, he isn't after a relationship because he married his Luminary (his soul mate) who unfortunately died and knows he won't find another….. or will he?
I can't resist storylines like this and as I mentioned, the friends to lovers and marriage of convenience are always winners for me especially when you get the paranormal element too. The storyline is very much devoted to the relationship development and obtaining the promotion, it was soooo good and it flowed so well making it an extremely easy read. It also helped that the characters were so easy to connect to, they had great chemistry before the intimacy and reading about the change in the relationship dynamic was great. I enjoyed reading about Faith blossoming into a sexually confident woman and Carter letting down his defences to let love in, they complimented each others character a lot making them better people together and you could really get behind their cause and I'm a sucker for HEA's.
When I first decided to review this book I was unaware that it was part of a series let alone the third and decided to read it anyway hoping that it would read as a stand alone and it does! Nowhere throughout this book did I feel like I was missing any parts of the plot or bigger picture nor was I introduced to characters that I thought I 'should' know, so feel free to do as I did and dive right into this fun, sexy, sweet read – I myself will be adding the other two books to my 'to read' pile.
Thank you to Entangled Covet for giving me the opportunity to review this book in exchange for an honest review.