"Waiting On" Wednesday is a weekly event, hosted by Jill at Breaking the Spine, that spotlights upcoming releases that we're eagerly anticipating.
Jess's WoW
Upside Down
by Lia Riley
Release Date: August 5th, 2014
Book #1 in the OFF THE MAP series
New Adult Contemporary Romance
If You Never Get Lost, You'll Never Be Found
Twenty-one-year-old Natalia Stolfi is saying good-bye to the past-and turning her life upside down with a trip to the land down under. For the next six months, she'll act like a carefree exchange student, not a girl sinking under the weight of painful memories. Everything is going according to plan until she meets a brooding surfer with hypnotic green eyes and the troubling ability to see straight through her act.
Bran Lockhart is having the worst year on record. After the girl of his dreams turned into a nightmare, he moved back home to Melbourne to piece his life together. Yet no amount of disappointment could blind him to the pretty California girl who gets past all his defenses. He's never wanted anyone the way he wants Talia. But when Bran gets a stark reminder of why he stopped believing in love, he and Talia must decide if what they have is once in a lifetime . . . or if they were meant to live a world apart.
Jess's thoughts:
I found this whilst trolling through netgalley. I like the concept, and I look forward to reading it 1)if netgalley accepts my request. 2) if they don't, I look forward to it's release. I'm hoping it's as beautiful as it's cover.
Donna's WoW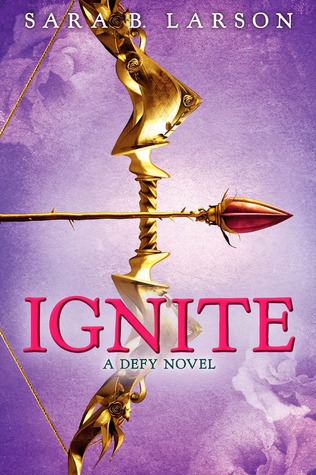 Ignite (Defy #2)
by Sara B. Larson
Release Date:
January 6th 2015
Murder, abductions, and forbidden romance abound in this thrilling sequel to Sara B. Larson's acclaimed YA debut, DEFY.
Alexa remains by the newly crowned King Damian's side as his guard, ever committed to helping him rebuild Antion and reclaim the hope of Antion's people, despite continuing to harbor a secret love for him. However, when another threat to Damian and his kingdom emerges, and blame is cast on their newly forged allies from Blevon, Alexa knows things are not what they seem. With the fate of her nation hanging in the balance once again, will Alexa be able to protect her king and uncover the true enemy -- before it's too late?
Donna's thoughts:
I'm so excited for this book! I loved Defy and I just can't wait for more, and the cover is lovely too!
<
What's your "waiting on" pick this week?
Want to participate?
Grab the logo, post your own WoW entry on your blog, and leave your link at Breaking the Spine.