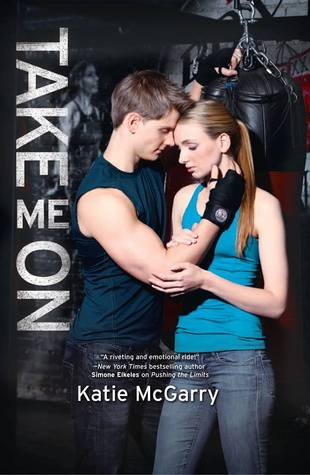 Posted by Donna
Release Date:
May 27th, 2014
Finished Date: May 11th, 2014
Publishers:
Harlequinn Teen
Genre: Mature YA, Contemporary, Romance
Source: For Review
Format: eARC
Pages: 544
Acclaimed author Katie McGarry returns with the knockout new story of two high school seniors who are about to learn what winning really means.
Champion kickboxer Haley swore she'd never set foot in the ring again after one tragic night. But then the guy she can't stop thinking about accepts a mixed martial arts fight in her honor. Suddenly, Haley has to train West Young. All attitude, West is everything Haley promised herself she'd stay away from. Yet he won't last five seconds in the ring without her help.
West is keeping a big secret from Haley. About who he really is. But helping her-fighting for her-is a shot at redemption. Especially since it's his fault his family is falling apart. He can't change the past, but maybe he can change Haley's future.
Hayley and West have agreed to keep their relationship strictly in the ring. But as an unexpected bond forms between them and attraction mocks their best intentions, they'll face their darkest fears and discover love is worth fighting for.
The Review:
I always look forward to a new Katie McGarry book because you are always guaranteed an addictive read, with fantastic characters and trouble which is not too far away, and Take Me On definitely lived up to what I was expecting because Katie McGarry doesn't know how to disappoint her readers!
This time around we see Haley, a champion kickboxer, who once had it all but now she doesn't have much, not since her father lost his job and her and her family are forced to live with her Uncle who has very strict house rules. Living under his roof isn't easy, and it's even worse with her pysho ex-boyfriend hanging out. It's not until she meets West that she starts questioning what she wants in life. But West is hiding secrets of his own - ones he can't stop feeling guilty about but in Haley he finds someone he wants to be around, so he does his best to find a way - even if they're only faking being boyfriend and girlfriend. Soon they discover that they enjoy faking it, more than they thought, but can two people who have trouble in their lives, come together and make something beautiful?



I can't tell you how much I adore Katie's work and with each book she produces, she seems to get better and better. Even though her stories do have a slight trend - troubled teens finding love, no matter what, I still completely enjoy it and find I can't put the book down until it's finished. What I love is how Katie does try to mix it up a bit, she doesn't always stick to same story but adds something that as a reader, we may not be interested in, like boxing or drag racing. This time, it's boxing and I completely loved it. So it's simple, Katie could write anything and I think I'd love it - she's just that type of author that has an addictive quality to her work.



With Take Me On featuring West - Rachel's brother - (Rachel's from Dare You To) I was wondering how she could make West's story different from Rachel's. It's clear the West family have their own issues, but I didn't know if their issues could warrant another story, but it did. The West family are messed up and I felt as though West got it bad during his story. But then of course, we have Haley's issues too and it's was just as rough for her - if not worse. She's dealing with a lot and it's only when she's with West does she feel like she can start moving on. I've gotta say, it's a lot for teens to be dealing with at that age and at times it's quite simply heart-breaking. I found both stories intense and sad, I loved West and Haley together. They we're super cute and pretty deep. I enjoyed watching their relationship grow in something honest and beautiful and I could easily have kept on reading once I'd finished.

I'm honestly hoping and praying that Katie doesn't stop here, I still want more in her Pushing the Limits series and I'd really love for Lilah and Logan to get their own stories - especially Lilah, seriously that's going to be one hell of a story. But I still think there are many other characters - like Jax could get their own stories too. I guess time will tell but yeah, I want more!

Overall, it's simply impossible to rate a book by Katie bad, it's just not possible. I love her work and I highly recommend you read some if you haven't.