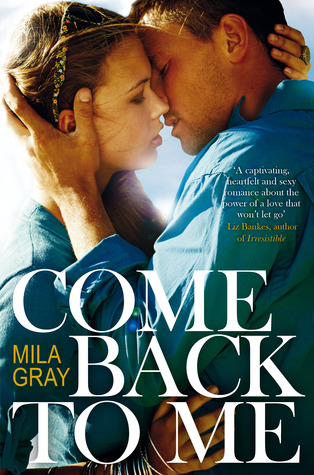 Posted by Donna
Release Date:
June 19th, 2014
Finished Date: June 1st, 2014
Publishers:
Pan Macmillian
Genre: New Adult, Contemporary, Romance
Source: For Review
Format: eARC
Pages: 373
Home on leave in sunny California, Marine and local lothario Kit Ryan finds himself dangerously drawn to his best friend's sister, Jessa - the one girl he can't have.
But Kit's not about to let a few obstacles stand in his way and soon Jessa's falling for his irresistible charms.
What starts out as a summer romance of secret hook-ups and magical first times quickly develops into a passionate love affair that turns both their worlds upside down.
When summer's over and it's time for Kit to redeploy, neither Kit nor Jessa are ready to say goodbye. Jessa's finally following her dreams and Kit's discovered there's someone he'd sacrifice everything for.
Jessa's prepared to wait for Kit no matter what. But when something more than distance and time rips them apart they're forced to decide whether what they have is really worth fighting for.
A breathtaking, scorchingly hot story about love, friendship, family and finding your way back from the edge of heartbreak.
The Review: You all know how much of a fan I am of Sarah Alderson's work, so to hear she was releasing a new adult story under her pen name Mila Gray, was pretty damn exciting. And after reading Come Back to Me I've come away knowing this, Sarah Alderson is a phenomenal writer and Come Back to Me just proves to the greatness of work that this women can create. I'm simply left wanting more!
Jessa has lived a sheltered life. Her strict father watches her and her brother carefully leaving them walking on egg shells in their own home. One thing Jessa can't understand is why her father hates her brothers Marine best friend, Kit Ryan. Jessa has had the biggest crush on him forever, but she's only ever watched him from afar. After he returns home from a tour, Kit finally decides it's time that he and Jessa get to know another other that little bit more. But can their lives tear them apart before their journey has just begun?
Absolutely heart-breaking, Come Back to Me is a whirlwind of a roller-coaster that will leave you an emotional mess! It's lovable, charming, sweet, hot, sad, intense, it's everything a new adult story should be and more, and I was hooked from the very first moment.
I adored both Kit and Jessa. It's pretty hard not to. They're both fantastic characters that you can only wish the best for. They're very lovable and compelling that you can't put their story down. Their journey isn't easy and the dual narrative worked perfect with the story. It made it that much more emotional because you can understand what each character was going through, and it just cracks your heart a little bit.
In all, I just knew that this novel would be fantastic and it is! If you're a fan of Sarah Alderson's or even if you haven't discovered her yet, try this book and see for yourself why we all adore her so much!
Excerpt from Come Back to Me by Mila Gray
'I can't believe I've never been here before,' she says, resting back on her elbows and stretching her legs out. I take a deep breath, trying to tear my eyes off the smooth, tempting length of them. I snatch the spare blanket and throw it over us, then lie down beside her. After a moment she rolls gently against me. I lift my arm and she scoots even closer, resting her head on my shoulder. For a long while neither of us moves, and I'm not sure about Jessa, but I know that I'm not thinking about stars. All I can concentrate on is the feel of Jessa's body relaxing against mine, the warmth of her bare legs pressed against my thigh, the feel of her breasts against my side and the cool silk of her hair tickling my neck.
The tension in her body gradually seeps away as my hand gently strokes her shoulder and arm beneath the blanket. Goosebumps prickle her skin and my gut tightens in answer. I want nothing more than to kiss her, but I don't. I don't want her to think I brought her all this way just so I could make out with her. I mean, I do want to make out with her, but I also want to take things slowly, make sure she knows I'm not putting any pressure on her. If all we did was lie here and look up at the stars, that would be enough.
'That's the big dipper,' I say, pointing out the plough shape of stars in the sky. 'And this little one here, that's the little dipper, Ursa Minor. See the brightest star in it? At the end of the handle? That's the North Star.'
Jessa follows my hand with her eyes.
'It's always there, all night. Doesn't rise, doesn't set. All the other stars revolve around it. It's the one you look for if you're lost. It'll take you home.'
Jessa is quiet for a moment. 'How do you know all this?' she finally asks.
'They taught us in basic training. We have to be able to navigate without a compass at night.'
Jessa tenses a little and then her hand moves beneath the blanket and comes to rest on my stomach. Oh man. I hope to God it stays there and doesn't wander any lower, because I'm barely managing to stay cool as it is.
'What else did they teach you?' she asks, her fingertips gently and slowly smoothing their way across my T-shirt, tracing the bottom line of my ribs and then my stomach muscles. Blood pounds in my ears like a hammer against an anvil.
'To iron. I have mad ironing skills,' I practically stammer. 'And I also know which spoon to use for soup and which to use for dessert.'
'Useful in the heat of battle,' she laughs. 'Why do you need to know about place settings?'
'We work in an embassy. We're guarding diplomats. They give us etiquette lessons before they send us into the field so we don't go embarrassing ourselves at all the fancy functions and act like grunts who've never seen a knife and fork before.'
Jessa leans up on one shoulder and looks at me strangely, as though she's checking if I'm kidding or not. I'm not. 'You get to go to parties?' she asks.
I shrug, pulling her back down so her head rests on my shoulder. I like feeling the weight of it there. 'Yeah, sometimes. I mean, embassy functions, socials, that kind of thing.'
'And there I was imagining you living in a dorm with a dozen guys, standing sentry all night and living on rat packs.'
She's talking about the foil pouches containing what some guy with no taste buds who works in supply believes constitutes food – the packs marines are forced to eat in combat zones. 'Nah,' I tell her. 'No rat packs for us. We have our own chef.'
She tries to sit up again but I tickle her under the arm and she collapses back down, this time almost right on top of me.
'You get your own chef?' she asks, incredulous. 'No wonder you and Riley both wanted to become embassy guards.'
It's true. Both Riley and I trained hard and sat numerous tests so we could be selected for embassy duty. They're pretty choosy, but we both made the rank of corporal and then made the grade. But right now, it must be said, I couldn't pass a simple English proficiency test. Jessa's thigh is flung across my legs, her stomach resting on my hip, and I can feel my body responding automatically. I try to think of my old drill sergeant screaming in my face, to picture myself in the pit doing push-ups until my body cramps, but when Jessa leans her weight on her arms and looks down at me, her hair trailing down on either side of my face, her lips just an inch from my own, all those images vanish, replaced with just one − her naked beneath me.
Giveaway!
To celebrate the release of Come Back to Me, Sarah is celebrating by offering one lucky winner the chance to
win £50 of vouchers to a store of your choice, signed books & more (international entry welcome). So if you're interested, click the rafflecopter link below!
Here's the link to the Rafflecopter;
https://www.facebook.com/MilaGrayBooks?sk=app_228910107186452
Having spent most of her life in London, Sarah quit her job in the non profit sector in 2009 and took off on a round the world trip with her husband and princess-obsessed daughter on a mission to find a new place to call home. After several months in India, Singapore, Australia and the US, they settled in Bali where Sarah now spends her days writing by the pool and trying to machete open coconuts without severing a limb.
She finished her first novel, Hunting Lila, just before they left the UK, wrote the sequel on the beach in India and had signed a two book deal with Simon & Schuster by the time they had reached Bali.
A third book, Fated, about a teenage demon slayer, was published in January 2012.
The Sound, a thriller romance set in Nantucket, was published in August 2013. She has a further three thrillers due for release in the next few years.