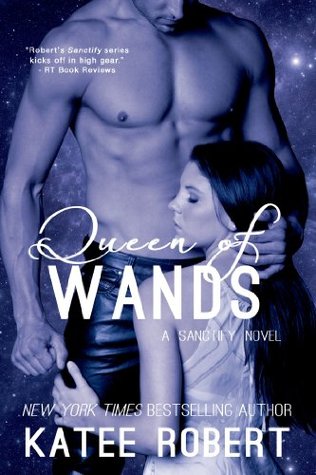 Posted by Melanie
Release Date:
May 17th, 2014
Finished Date: June 20th, 2014
Publishers:
Entangled Select
Genre:
Adult, Paranormal, Romance
Source: For Review
Format: eARC
Pages: 300
When Jenny O'Keirna gets a chance to slip her older brother, the new king of Hansarda's, leash, she jumps at it, even if it means playing babysitter to a too-smart-for-his-own-good inventor. She's not expecting the attraction that sparks between them—or that Sanctify is just as desperate to take him for their own.
Never in Mac Flannery's wildest dreams did he imagine Jenny would be the one sent for him. He sees beyond the mad grin the sexy princess of Hansarda presents to the world, and that combination of vulnerability and wicked humor is a siren call he can't resist.
But Sanctify is always three steps ahead of them. On the run—and unable to keep their hands off each other—Jenny and Mac devise an insane plan: kidnap the leader of Sanctify, and stop this war once and for all. Unfortunately, they've just played right into his hands…
The Review: Queen of Wands is the second book in the Sanctify series and this time around we have Jenny O'Keirna, Boone's sister and pain in his ass! I was glad we were getting Jenny's book, she was super fun in book one and I knew I would want her story. I'll come out and say straight away that I thought the man for her would be Cole who she very much enjoys tormenting with her own brand of wit and sarcasm, but low and behold – she has another suitor in geek man – Mac Flannery. Mac is the inventor and genius behind Ophelia's fathers' weapons and sanctify would love to get their hands on him and turn the tables on the rebels; so with Boone & Ophelia out of action it's left to Jenny to lead the rescue mission for Mac, a simple extraction before Sanctify can get their claws into him. Mac had been keeping tabs on Jenny after looking into her following Boones abduction of Ophelia in book one and he likes what he sees, he sees beneath her façade but doesn't understand her reasoning until he meets her. Jenny is a party girl through and through and no man can ever tie her down and cage her wild ways so she's in for a huge eye opener when geek man turns out to be geek hunk! Both are unprepared for the chemistry between them and Jenny doesn't realise just what she's getting into but that doesn't mean she'll let herself be tamed – Hells no! she's about to take Mac on the adventure of a lifetime as they try to stay one step ahead of the enemy and avert possible war. They have a plan, it's risky but it puts them right in the hands of the new High Priest of Sanctify…. Can they pull it off? So I really enjoyed this – I knew I would because I loved book one – it was again, exciting, sexy and action packed and opened up the universe even more. Jenny definitely made an impression in book one, she's fun, full of sass and a girl who has no boundaries – living to be free and her own person – she has problem with authority and not being seen as a capable member of the rebellion, she knows she can do the missions but her brother tends to put a block on her activities. She practically begs for the mission to extract Mac, thinking that it will show everyone that she 'can' do things solo and that she will succeed. It's all good but when she meets Mac, we see a different side to her, a side I think she even hides from herself most of the time and it lets the reader see her in a softer light rather than the dominant female she is. She protects her heart, she uses humour and snarkiness to deflect what she really feels and Mac can see through all of her BS, that's how you know that he's the keeper. Jenny isn't alone in her demons, Mac has them too and some of them are the driving force behind why he does what he does but again, it's meeting Jenny that makes him want to share, he wants to open up to this woman and he hopes she will do the same but he's not willing to play her games and that's what makes him different for Jenny – he doesn't want to cage her, he doesn't want to protect her, he wants to let her be her. I thought these two had a great dynamic between them when they get down to it, Jenny is kind of complex in her behaviours and it was always going to take someone to see through that, she was impulsive whereas Mac was a thinker, always weighing the options and results – so they balance each other out a lot – showing us some nice chemistry and a lot of sexual tension. I liked that it was a female who had the impulsive nature, using her sexuality and loving & leaving men behind and that Mac was pretty steady and wouldn't be used for a sexual encounter, it's not often we see this type of relationship and I thought it fitting to both characters. The storyline was a great continuation from book one and whilst we had a couple of cameos from Boone & Ophelia, it was all about Jenny & Mac. There is a new High Priest in the enemy camp and he is younger and more aware of what is going on in their worlds, everyone is on tenterhooks as to what he will do now that he's in charge; who will he target? Will he be as harsh as his predecessor? Will Hansarda be safe until they can mount a defence? … You will find out. I liked the run and chase scenario they had going on and the fact that Jenny's escape planet was 'unusual' but 'so her' to even suggest it, she was in control and she'd own it! Which was fun for all involved… for a while. We get a few old characters and meet a few new characters which are always welcome, plus a really cool character is back from book one that seems to be everyones' punching bag which makes me really want her story because she and her actions are an enigma. There is no let-up in action as we get physical battles, starship battles, unexpected ambushes & power struggles - leading to some awesome fight scenes that leave you breathless. So expect an exciting, action packed read that is balanced by finding love, a person you can yourself with and some serious sexual tension & sexytime. I look forward to book 3.