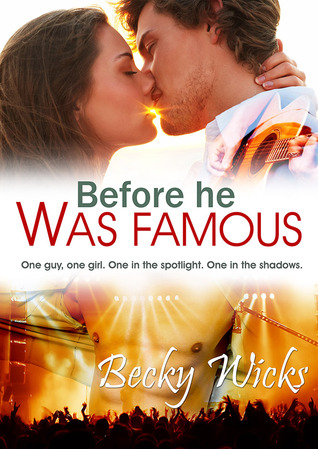 Posted by Donna
Release Date:
May 29th, 2014
Finished Date: May 26th, 2014
Publishers:
Self Published
Genre: New Adult, Contemporary, Romance
Source: For Review
Format: eARC
From International Bestselling HarperCollins Author, Becky Wicks, comes a new adult romance that will leave you starstruck.
***Warning: this book contains graphic language, sex, and mature situations. Not intended for young adult readers.***
One guy, one girl. One in the spotlight. One in the shadows.
Falling in love with your best friend isn't always a great idea, especially when he's Noah Lockton - the sexiest, most famous new talent on the planet. When 21-year-old small-town photographer Chloe Campbell is offered the chance of a lifetime – to join her celebrity childhood friend Noah on tour as an exclusive blogger for a New York magazine – she's certain both have put what happened four years ago behind them. But his eyes still burn; his voice is still a jackhammer to her heartstrings; all his songs are about her. Is it possible that that night still haunts them both?
The music industry is a machine, spinning hype and rumors as much as his records. It's not just Noah's girlfriends who've got it in for Chloe (there's no stopping the Twitter-obsessed, cat-loving pop-star Courtney Lentini for starters). Pretty soon, the jealousy and media frenzy surrounding these so-called-friends takes a life-changing turn and it seems making love means making enemies at every turn. When tragedy threatens to pull the final curtain on their relationship, both Chloe and Noah must make a choice. As much as this world leaves them starstruck, is living their dream really worth living without each other?
A story of lifelong friendships, love and hope, set in a world of celebrity, fame and social media gone very, very wrong.
The Review: Intense, lovable and seriously sexy, Before He Was Famous is a welcomed addition to the New Adult genre!
Chloe and Noah have been best friends forever, they know everything about each other and they'd do anything for each other. With Noah destined for fame, it's no surprise when he stars in a music competition and wins….and Chloe's right there along with him. The problem is, even though they deny it, their attraction and love for each other is hard to deny. Soon Chloe and Noah find themselves in situations they never though they'd be in, but for Chloe, it maybe a little more dangerous than she ever expected. Can their friendship survive the damage fame can bring?
I absolutely adore best friend turn lover stories, so when I came across Before He Was Famous I knew it was something I would enjoy, and I was right! Becky Wicks has wrote a smouldering story and it's one that will capture you're heart.
I adored Chloe and Noah's relationship. It's lovely and really touches your heart to know that these two people – no matter what – can rely on each other without a shadow of a doubt. Together they are strong and can take on anything. The fame that comes with Noah's lifestyle does cause trouble for them, with that it makes the story at times, very heart-wrenching and a tad emotional. Chloe goes through a lot during this story and she needs the support from Noah. Noah's kind and loving and did I mention hot? Yeah, Noah's a babe…smoking hot! He's easily one to swoon over.
I think what made this story work so well was the dual narratives. Both Chloe and Noah had their own distinctive voice and it was easy to slip into their heads and lives. I would have liked a little less 'music industry' in Noah's story, but I could understand why there was so much. It's the key to the story, but it didn't stop me enjoying it.
In all, this was the first book I've read by Becky Wicks and it definitely won't be the last… bring on more!
Author Interview with Becky Wicks
What inspired you to write Before He Was Famous?
You know, secretly I've always wanted a guy best friend who I could fall in love with, but in reality I'm not sure it happens very often – well, maybe it does but are you ever really just friends with a guy without at least considering something romantic first? Hmmm. Anyway, I wanted to write something emotional and dramatic, but also entertaining, so what better platform than the world of fame? Who doesn't want to date a rock/pop star?!
How long did it take to write?
I started in December 2013, and finished around March. I was doing other copywriting projects around it, so I'd say all in all it took about five months before I was happy with it. However, I had a lot of scenes written in parts, and in my mind long before that! Originally Noah was called Ben. I changed that after I met a guy called Noah… he looked a lot like the Ben I'd had in my head for so long. It was actually kind of weird.
Do you have a favourite character from the book?
Denzel! I wrote Denzel's cockney rhyming slang as a way to further illustrate that both Noah and Chloe have no real clue about the world they've fallen into. Everything is new, everything is confusing and in the end, the only people they can really trust… the only people who truly understand them, are each other.
Do you have a favourite quote?
"You have to be the ocean. You have to fight to stay on the shore, no matter how many times it pushes you away." Madeline says this to Noah when she sees how Chloe keeps distancing herself from him on purpose, out of fear. Chloe's afraid to love him because she doesn't want to lose him, and Madeline is one of the few people who tries to open her eyes to the fact that it's better to love and lose Noah, than to not give herself the chance at all.
Who would you cast in the movie version of this book? Or who do you see playing them?
Interesting! You know, there are so many gorgeous guys out there who could be Noah. I would perhaps have said Zac Effron for Noah a few years ago, but now I think maybe Tyler Posey from Teen Wolf and maybe even Crystal Reed, or Alexandra Deddario (from the Percy Jackman movies) as Chloe. I think Denzel would have to be Russell Brand – that's kind of who I pictured when I was writing it.
Do you have any other books that you're working on that you could tell us about?
I'm working on book two in the HotFlush series already. It follows Chloe's friend Alyssa into a different world of reality TV as she's accepted onto a Survivor style game show. There's plenty of sexual tension and hotness with a guy called Joshua, who may or may not have a secret he's hiding. I'm planning to release in August or September, depending on how busy I get!
If you could be the star in any released movie, what movie would you pick?
A few years ago I would've picked any X Files episode rather than a movie – I was obsessed with it and would've done anything to kiss Fox Mulder! There's something about the drama and tension in terrifying situations that is so sexy! Also I think Shailene Woodley is great – can't wait to see The Fault in Our Stars. It must have been a hard role to play.
What would we find in your refrigerator right now?
Yakult, yogurts and Marmite!
List 3 books you have recently read and would recommend?
Out of Control by Sarah Alderson. I love all her books but this one is edgy and faster-paced and has a super hot hero called Jay who you'll fall in love with. I also read Broken Pieces (Essays Inspired By Life) - by Rachel Thompson, which was heartbreaking and beautiful at the same time. Lick (A Stage Dive Novel) by Kylie Scott was hot and kept me reading for hours when I probably should have been asleep! I tend to read multiple books at once, depending on the mood. That's the best thing about having a Kindle, right?
Giveaway;
Becky is kindly giving away an KINDLE FIRE HD and get a character named after you in her next book. Want to enter?
If you do, click the rafflecopter link below and good luck!
Before He was Famous is her new adult epic romance about a guy and a girl's struggle to handle the fame he finds through winning a TV talent show. There's plenty of steamy sex and suspense in there, (ah, the thrills of when best friends become lovers) and she's releasing a fantasy romance soon, too.
Becky Wicks has also written three funny travel books about her time in Dubai, Bali and South America (HarperCollins). Her first book, Burqalicious - The Dubai Diaries, her second book, Balilicious - The Bali Diaries and her third, Latinalicious -The South America Diaries are out now as ebooks - snap them up and make your feet even itchier!
Becky has also written a comedy romance with author Sarah Alderson under the name Lola Salt, called The Extraordinary Life of Lara Craft (not Croft) which should raise a giggle or two... think Bridget Jones if Jackie Collins had written it!
Feel free to get in touch at beckywicks@me.com or twitter at bex_wicks