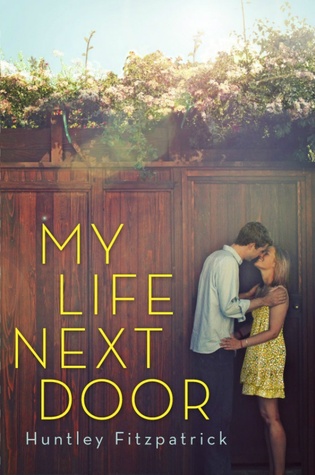 Posted by Donna
Release Date: June 14th, 2012
Finished Date: July 20th, 2014
Publishers:
Dial Books For Young Readers
Genre:
YA, Contemporary, Romance
Source: Bought
Format: Paperback
Pages: 394
"One thing my mother never knew, and would disapprove of most of all, was that I watched the Garretts. All the time."
The Garretts are everything the Reeds are not. Loud, messy, affectionate. And every day from her rooftop perch, Samantha Reed wishes she was one of them . . . until one summer evening, Jase Garrett climbs up next to her and changes everything.
As the two fall fiercely for each other, stumbling through the awkwardness and awesomeness of first love, Jase's family embraces Samantha - even as she keeps him a secret from her own. Then something unthinkable happens, and the bottom drops out of Samantha's world. She's suddenly faced with an impossible decision. Which perfect family will save her? Or is it time she saved herself?
A transporting debut about family, friendship, first romance, and how to be true to one person you love without betraying another.
T
he Review:
My Life Next Door has been high on my TBR list forever! For some reason I just never found the time to read the book but thankfully that time came, and it was just as good as everyone told me it was it.
Samantha Reed comes from a very conservative family. Her mother is running for Major of the town and her older sister is living her life at college. For Samantha, her life is okay but she can't help wish for more. What Samantha's mother doesn't know is Samantha watches her crazy next door neighbours – The Garretts. Samantha's mother would go mad at her but watching them as become a nightly ritual and it gets even harder when one night Jase Garrett joins Samantha on her rooftop perch. From there out Samantha's life in entwined with the Garretts because of Jase and their growing relationship. But when something happens Samantha stands to lose everything she loves.
Aw, this was so good, really good, amazing even. I don't know what I expected before I went into this story if I'm honest. It was such a long time ago that I read the synopsis that I couldn't remember what was going to happen and I didn't re-read it which I usually do, but I'm glad I didn't because I enjoyed it all the more going in blind. It's not your typical romance story. It's not full of drama over the main characters relationships, its more about the events that happen around the character that affects them and I enjoyed that. The story was unpredictable and very sweet oh and fun. I'd definitely say it's for older teens because the characters were so mature for their ages, but again, I loved that. And of course, the main reason I loved this story was for the spine-tingling romance between Jase and Samantha and of course, the Garrett's. The Garrett's are such a lovable, fun, messy, compassionate family that I found myself wishing they were real. Even though their family is quite hectic, I loved them. I definitely think they are my favourite family in a YA contemporary that I've read.
Samantha and Jase were just so cute together. They were great together and had such a strong connection. I appreciated that they had a patient relationship too; they didn't rush and took their time in every decision they had to make because they were very responsible characters. The twist near the end of the story is a right shocker – I certainly didn't expect it but it was so unpredictable. Simply fantastic!
The Garrett's as secondary characters were amazing! I loved them all and again they were so welcoming to everyone they met. And I can't forget Tim. I warmed up to Tim as the story progresses. He changes so much throughout the story and definitely becomes a better person but no matter what, he is so funny! I'm so thrilled he gets his own story soon and with Alice – I can't wait!
In all, My Life Next Door is the perfect summer read. I couldn't fault it one bit except to say I wish I'd read it sooner.
Favourite Quote: "You have to kiss me," I find myself saying.
"Yeah." He leans closer. "I do."