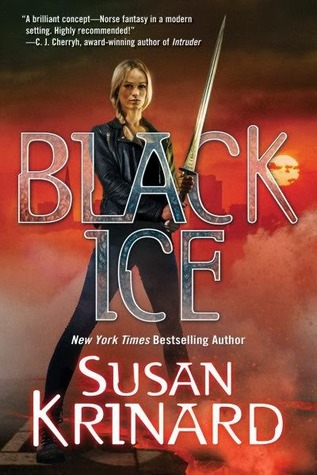 Posted by Melanie
Release Date: August 12th
, 2014
Finished Date: July 25th, 2014
Publishers:
Tor Teen
Genre:
Urban Fantasy
Source: For Review
Format: Paperback
Pages: 384
New York Times bestselling author Susan Krinard continues the thrilling urban fantasy series that began with Mist in Black Ice.
Centuries ago, all was lost in the Last Battle when the Norse gods and goddesses went to war. The elves, the giants, and the gods and goddesses themselves were all destroyed, leaving the Valkyrie known as Mist one of the only survivors.
Or so she thought.
The trickster god Loki has reappeared in San Francisco, and he has big plans for modern-day Earth. With few allies and fewer resources—but the eyes of the gods and goddesses of an old world upon her—it's up to Mist to stop him before history repeats itself.
T
he Review:
Black Ice is the action packed sequel to Mist and book 2 in the Midgard series.
We join Mist almost immediately after her showdown with Loki in the finale of book one. Mist, Dainn and her allies are recovering from the battle with Loki, regrouping and working through the discoveries they made. They know that Loki will attack again but whether it's today, tomorrow or months from now they have no idea, but one thing they do know is that they need to be prepared. They also know that they need to strengthen their side and to do that, they need to find more of the Valkyrie and the gifts they protect. On the other side, Loki is also looking at what he learned from the battle with Mist, he's left wondering whether Mist is powerful in her own right or whether it all comes from her mother…. He knows he must find out though and he also has a few more tricks up his sleeve, one that will surely bring Dainn and his beast to heel.
The battle for Midgard is only just starting and both sides are preparing for the long game so now its all about getting your players and placing them on the board.
I thought Black Ice was a good sequel to Mist and I really enjoyed it. It was a really fast paced read filled with action, betrayal, misdirection and secrets galore, where it feels like everyone has an agenda and you never know who to trust.
Mist again is a great character, quite hardened by her warrior/Valkyrie status, she has the weight of the world on her shoulders at the minute and everyone is looking to her to be the leader, a position that makes her uncomfortable but she will own it. I would have liked to see her soften a bit because she is so stuck in her role and I had thought she might have found something with Dainn but alas not yet. Dainn is still mysterious but we get a couple of reveals about him that show him in a different light, he is still struggling with his beast and I thought it showed his crumbling will against it well but also his determination to keep in check – as if he needs to do this for Mist, but he's still keeping secrets from her so I'll be curious to see what becomes of that.
The storyline was a good progression and whilst it was action packed and a good few secrets were revealed, it did seem like it was all about building their allies up to create an army. Obviously Loki is still looking for ways to create portals so that he can gain the upper hand but Mist is always there to thwart him. Loki seems to hold all of the cards as well and that he is manipulating the whole story, playing Mist & Dainn like puppets, testing the powers, what they know and playing with emotions in a way only Loki can. I did enjoy the new characters in this and thought it was logical that Mist would be trying to locate her Valkyrie sisters, what they bring to the story is interesting and I liked how they were found and what they had to offer. Loki also brought some surprises to the story which opens the world up even further but brings a situation that really does require a stretch of the imagination. Freya will also make an appearance but whether Dainn's plan to keep her out of Mists body has worked remains to be seen and as Mists power grows, she becomes more of a target. The plot is really jam packed with action and the pacing is very fast but I liked that, yes the story is complicated and there is a lot to keep track of but it was certainly easier reading that the first book now that we are well acquainted with the characters, their world and what is at stake. I'll be looking out for book 3 for sure.
Thank you to Tor Books for giving me the opportunity to review this book in exchange for an honest review.