"Waiting On" Wednesday is a weekly event, hosted by Jill at Breaking the Spine, that spotlights upcoming releases that we're eagerly anticipating.
Jess's WoW
Stepbrother Dearest
by Penelope Ward
Release Date: September, 2014
You're not supposed to want the one who torments you.
When my stepbrother, Elec, came to live with us my senior year, I wasn't prepared for how much of a jerk he'd be.
I hated that he took it out on me because he didn't want to be here. I hated that he brought girls from our highschool back to his room. But what I hated most was the unwanted way my body reacted to him.
At first I thought all he had going for him were his rock-hard tattooed abs and chiseled face. Then, things started changing between us, and it all came to a head one night.
Just as quickly as he'd come into my life, he was gone back to California.
It had been years since I'd seen Elec.
When tragedy struck our family, I'd have to face him again.
And holy hell, the teenager who made me crazy was now a man that drove me insane.
I had a feeling my heart was about to get broken.
Jess's thoughts: I love books like this. The forbidden romances, I honestly cannot wait to read this. I stumbled on this on when looking for new books to buy on Amazon, and I can't wait for it's release! Also....look how hot that cover is?? Jeeeezus!
Donna's WoW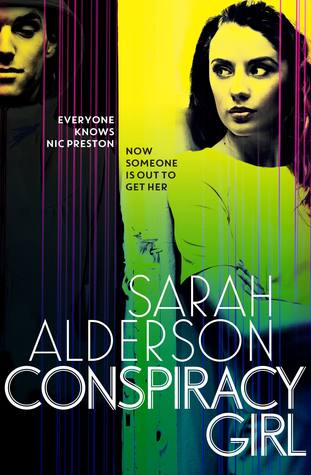 Conspiracy Girl
by Sarah Alderson
Release Date: February 12th,
2015
Everybody knows about the Cooper Killings – the Bel Air home invasion that rocked the nation.
There was only one survivor - a sixteen year-old girl.
And though the killers were caught they walked free.
Now eighteen, Nic Preston - the girl who survived - is trying hard to rebuild her life. She's security conscious to the point of paranoia and her only friend is a French Mastiff bulldog, but she's making progress. She's started college in New York and has even begun dating.
But then one night her apartment is broken into and the life Nic's worked so hard to create is shattered in an instant.
Finn Carter - hacker, rule breaker, player – is the last person Nic ever wants to see again. He's the reason her mother's killers walked free from court. But as the people hunting her close in, Nic has to accept that her best and possibly only chance of staying alive is by keeping close to Finn and learning to trust the person she's sworn to hate.
Fleeing across a snowbound New England, frantically trying to uncover the motive behind the murders, Nic and Finn come to realize the conspiracy is bigger than they could ever have suspected. But the closer they get to the truth and the closer they get to each other, the greater the danger becomes.
To survive she has to stay close to him.
To keep her safe he has to keep his distance.
Donna's thoughts:
Another book by Sarah Alderson? Yep! I'm sold!
<
What's your "waiting on" pick this week?
Want to participate?
Grab the logo, post your own WoW entry on your blog, and leave your link at Breaking the Spine.
Happy Reading!