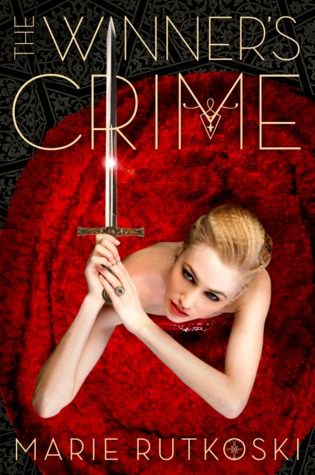 Posted by Melanie
Release Date: March 12th, 2015
Finished Date:
March 9th, 2015
Publishers:
Bloomsbury
Genre: YA
, Fantasy, Romance
Source: For Review
Format: eARC
Pages: 368
Lady Kestrel's engagement to Valoria's crown prince calls for great celebration: balls and performances, fireworks and revelry. But to Kestrel it means a cage of her own making. Embedded in the imperial court as a spy, she lives and breathes deceit and cannot confide in the one person she really longs to trust ...
While Arin fights to keep his country's freedom from the hands of his enemy, he suspects that Kestrel knows more than she shows. As Kestrel comes closer to uncovering a shocking secret, it might not be a dagger in the dark that cuts him open, but the truth.
Lies will come undone, and Kestrel and Arin learn just how much their crimes will cost them in this second book in the breathtaking Winner's trilogy.
The Review: I think I was in the minority who wasn't blown away by book one but because of the ending, which I greatly enjoyed – I decided to give book two a chance and I'm so glad I did because I simply could not put it down.
As the synopsis tells us – Kestrel is now living in the Capital and engaged to the crown prince, a price she must pay for the treaty that saved Herran and its people. The city is abuzz with the wedding preparations and Kestrel must adjust to life at court with endless parties and gatherings but longing for her life back in Herran. Things were left up in the air between Kestrel and Arin and she really wants to explain to him why she made her decisions and there's no better opportunity than her engagement party, which must be attended by all high powered people – which Arin now is as leader of Herran. Kestrel learns that there are spies everywhere and maybe her relationship with Arin should be hidden forever but it isn't that easy when she is shown things that will hurt the Herrani and her loyalties are tested. Kestrel becomes what she must in order to gain valuable information for the Herrani people but she also has to keep up appearances with the Emperor who is more watchful than she realises.
As Arin struggles with his feelings for Kestrel and his suspicions about her, he realises that Herran is no match for Valoria, their might is vast and no one is safe from them….. so, what if the casualties of the Emperor's quest for power banded together to keep what little freedom they have gained? One thing is for sure, both Kestrel and Arin are walking a fine line between life and death because we all know the price for treason.
So, I actually really, really liked this book and that was a surprise because I wasn't keen on the first book. I thought Kestrel became a more likable character here, we saw what she did for Arin in the conclusion of book one and that definitely started to show her in a different light because she sacrificed herself for their safety. Even though she will have a privileged life, it will not be the life she would have chosen for herself but she will do her duty and be an Empress one day. We see her struggle with what she has done on more than one occasion and I liked how she tried to work out the best option for both sides, to avoid casualties. She had her foot in both worlds and was very torn between them and you could really feel the turmoil in her but her stoic outside kept people at a distance.
I can't deny that I was waiting with baited breath for Arin to arrive on the scene, I was waiting for their meeting and what was going to happen and I wasn't disappointed. The meeting was filled with electricity and you can feel the tension between the two, Arin really put his heart on his sleeve throughout this and I was disappointed by Kestrel's need to push him away because of who he was. He pays a pretty harsh price for holding Kestrel's attention and I was really shocked that happened but it definitely endeared him even more to the reader. I loved the stolen moments throughout the book, I was desperate for something to happen between them and my pulse raced each time they were around each other.
The progression of the storyline was great, most of the book was set in the capital and we see how Valorian royalty go about their lives and I really liked that the story was told from both Kestrel and Arin's point of views. There is a lot of spying going on and it seemed to get to Kestrel a bit, she had to be so careful and it subdued her in a way. There are a lot of political agendas going on, plans and plots and some misdirection – it's really a precarious time for both Kestrel and Arin as they both try to stay one step ahead. Kestrel uncovers some unnerving secrets that will have far reaching consequences and whilst she will do what she thinks is right… it's dangerous for her. There is a lot of emotional turmoil between Kestrel and Arin where they each see the other in a different light. Kestrel cannot have a life with him and has to handle him in a way that only a person who truly knows someone will, knowing what is at risk and his reaction if she was to confess all to him and when he leaves, he takes a piece of her with him. Arin is looking for allies and the story begins to alternate between Kestrel in the capital and Arin on his journeys, both are in constant danger which keeps you on the edge of your seat and things start to look bleak for them. The pacing was great, a lot smoother than book one and it did hold my interest all of the way through and the ending of this book will leave you astonished but desperate for more. I can't wait for the next book.
4.5 flowers!
Thank you to Bloomsbury for giving me the opportunity to review this book in exchange for an honest review.