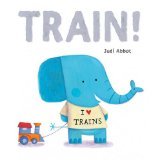 Posted by Donna
Release Date: March 1st, 2015
Finished Date: March 3rd, 2015
Publishers:
Tiger Tales
Genre:
Children's Picture Book
Ages:
3
-5 years
Source: For Review
Format: Board Book
Pages: 28
Little Elephant LOVES trains. One day, Mommy and Daddy take Little Elephant for a ride on a real train, and Little Elephant is so excited! But on the train, Little Elephant gets angry when no one wants to play trains with him. Cat wants to play with his plane. Penguin wants to play with his car. And Rabbit would rather play with his digger. How will they all find a way to play together?
The Review: Train! is about Little Elephant who loves trains. He loves trains that much he refuses to play with anything else. So when his Mommy and Daddy take him for a ride on a real train, it's there that he meets other animals but gets angry when no-one wants to play trains with him. That's because Cat loves planes. Rabbit loves diggers, and Penguin loves cars. But how can these four animals play together when they all like different toys?
I have mixed feelings about this book. My daughter and I enjoyed it but there were times when we were ready to give up. The overall story about Little Elephant and his friends trying to play with new toys rather than the ones they always play with, we enjoyed. The illustrator did a fantastic job with capturing the emotions of the animals and creating bright and beautiful pages to look at. It's very educational for little ones, especially those that are obsessed with one specific toy because it teaches them that there are other toys out there to play with and it also teaches them that playing together is good. But the story is very repetitive. It was clearly meant to be that way to add to the obsessiveness that the animals had over their toys, but for me I was more frustrated having to read the same words over and over again, while my daughter found it funny to start with but soon lost interest. I'd definitely say my daughter was a little old for this story (she's nearly 5 years), so I'd say it would suit the a younger audience.
Thank you to Tiger Tales for the opportunity to review this book in exchange for an honest review.