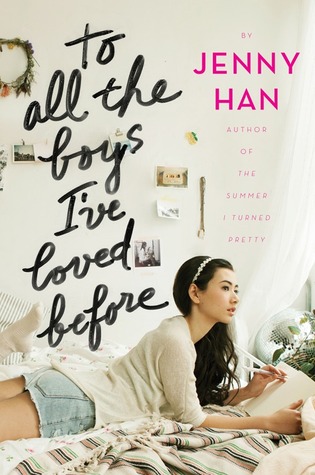 Posted by Donna
Release Date: August 7th, 2014
Finished Date: September 17th, 2014
Publishers:
Scholastic
Genre:
YA, Contemporary, Romance
Source: Bought
Format: Paperback
Pages: 400
To All the Boys I've Loved Before is the story of Lara Jean, who has never openly admitted her crushes, but instead wrote each boy a letter about how she felt, sealed it, and hid it in a box under her bed.
But one day Lara Jean discovers that somehow her secret box of letters has been mailed, causing all her crushes from her past to confront her about the letters: her first kiss, the boy from summer camp, even her sister's ex-boyfriend, Josh.
As she learns to deal with her past loves face to face, Lara Jean discovers that something good may come out of these letters after all.
The Review: To All the Boys I've Loved Before is a delightfully sweet read – one that captures your heart and leaves you wanting more!
As a way to move on from her previous loves, Lara-Jean writes letters to them. She writes things she would never say to their faces and she writes from her heart. When she finishes the letters, she address's them and keeps them stored in an old hatbox her mother gave her before she passed away. Lara-Jean never expected her letters to ever be read but suddenly they disappear and the loves from her past know everything she has wrote - they've somehow received her letters.....
I loved Jenny Han's summer series so when I heard she was writing a new book, I couldn't wait to read it. It did take me a while to get to To All the Boys I've Loved Before but it was definitely worth the wait because I had a fantastic time buddy reading this with Kate.
When I started the story I wasn't sure I was going to like it. Lara-Jean comes across very young during the first few chapters and it instantly put me off. I didn't enjoy her calling her parents Daddy and Mommy when she's 15/16 years old. But I'm glad I stuck with the story because it quickly changed. Once Lara-Jean's sister Margot leaves for Scotland, I quickly saw a change in Lara-Jean. She becomes more confident and tries to stand on her own two feet rather than letting Margot do everything for her. She realizes she has to look after her workaholic father and her younger sister and with Margot leaving, it gave Lara-Jean the room for growth and I think it was exactly what she needed as a character.
When Lara's letters get sent and the some of the boys start approaching her, I was mortified for her. If I was in her situation I would have hidden under a rock but I thought Lara-Jean handled it really well or the best she could. While trying to hide her true feelings for Josh - her sister's ex-boyfriend, Lara-Jean turns to Peter for help and it's a win-win situation for both of them if they pretend to be dating - even though Peter received a letter from Lara-Jean too. Their relationship is completely platonic and I liked that. Their friendship/relationship really kept me guessing throughout because although this is kind of a love triangle story, the relationship with Peter is a really slow burning one. It's not clear that something with him will ever happen. It's through Peter's actions that you slowly start to notice a change and my heart completely started to warm towards him. But then I liked Josh too - he was sweet and a little bit blind to what was going on around him, but I'm firmly TEAM PETER!
I cannot wait for the sequel. I'm nervous about the blurb which looks like another boy from Lara-Jean's past will make an appearance and I'm kind of guessing to who it is. But it makes me wonder what will happened between her and Peter. These two are so right for each other and I'm hoping they see it soon too.
In all, To All the Boys I've Loved Before was an absolute pleasure to read and I'll look forward to re-reading it in the future.