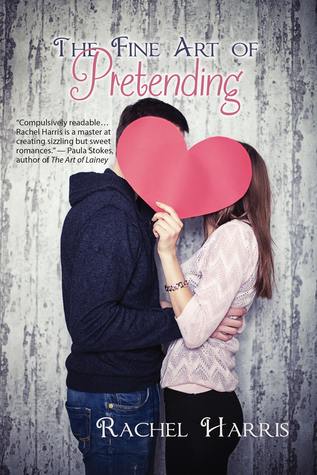 Posted by Donna
Release Date: September 30th
, 2014
Finished Date: September 21st, 2014
Publishers:
Spencer Hill Contemporary
Genre:
YA, Contemporary Romance
Source: For Review
Format: eARC
Pages: 256
According to the guys at Fairfield Academy, there are two types of girls: the kind you hook up with, and the kind you're friends with. Seventeen-year-old Alyssa Reed is the second type. And she hates it. With just one year left to change her rank, she devises a plan to become the first type by homecoming, and she sets her sights on the perfect date—Justin Carter, Fairfield Academy's biggest hottie and most notorious player.
With 57 days until the dance, Aly launches Operation Sex Appeal and sheds her tomboy image. The only thing left is for Justin actually to notice her. Enter best friend Brandon Taylor, the school's second biggest hottie, and now Aly's pretend boyfriend. With his help, elevating from "funny friend" to "tempting vixen" is only a matter of time.
But when everything goes according to plan, the inevitable "break up" leaves their friendship in shambles, and Aly and Brandon with feelings they can't explain. And the fake couple discovers pretending can sometimes cost you the one thing you never expected to want.
The Review: Super cute and adorable, The Fine Art of Pretending is a read that will capture your heart and leave you wanting more from Rachel Harris.
Alyssa 'Aly' Reed has always been the friend to all the guys at Fairfield Academy. She's never the one who is asked out on dates or has the boys swooning over her and she believes that's down to her tom boy style. She loves sports, she's competitive and she never wears make up. But that's about to change. Aly is determined that for her senior year that she will be the girl all the boys want by changing her style from tomboy to girly and she's set her sights on the hottest guy at school, Justin. The problem is Aly believes she needs to be noticed and this is where her best friend, Brandon Taylor comes in when she convinces him to be her pretend boyfriend. But, as her and Brandon start their fake relationship it soon becomes harder to work out what's real or not.
This was the first book I've read by author Rachel Harris and I can now officially say I want more from her. It's impossible not to see her other work around, so it's definitely something I'm going to be checking out while I wait for more from the The Fine Art of Pretending series.
The Fine Art of Pretending was just the type of read I was looking for. I was reading a New Adult story and wasn't really in the mood so I'm glad I had this book ready and waiting for me because it really was a fantastic read! I loved how the story was so realistic to so many teenagers nowadays because of how many teenagers try to change who they are to fit in better or in this case to stand out more. The deeper message of the story is, you are who you are, don't change yourself unless it makes you happy.
The characters of the story are just great. Aly and Brandon have such a deep connection that you can't help root from them from the start. Even though they have their up's and down's during the story, I could completely sympathize with both of them. With Aly making the biggest change and going through a lot to finally discover who she is, I felt a deeper connection to her. But with Brandon's point of view come different issues and for that I loved him too.
In all, The Fine Art of Pretending is a lovable YA contemporary read that will have you swooning all the way through. Very enjoyable and simply a fantastic summer read!
Thank you to Spencer Hill Contemporary for giving me the opportunity to review this book in exchange for an honest review.