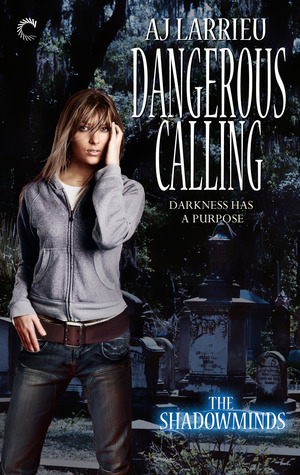 Posted by Melanie
Release Date: August 18th
, 2014
Finished Date: September 24th, 2014
Publishers:
Carina Press
Genre:
Urban Fantasy
Source: For Review
Format: eARC
Pages: Unknown
After years of denial, Cass Weatherfield has finally accepted her telekinetic gifts. Living with her boyfriend, Shane, has given her the confidence to be herself, but the fear of losing control and harming those around her is always present.
Knowing firsthand the hell of growing up without a mentor, she agrees to meet and help Diana, a young Shadowmind. But when Cass shows up, the terrified woman changes her mind and flees. Cass and Shane track her across New Orleans, and soon discover that Diana is being held against her will by an illicit organization that's selling her rare clairvoyant skills to the highest bidder. In charge is an ancient creature more powerful than any they've ever encountered. And apparently she wants Shane dead.
Cass and Shane work to free Diana. But as Cass uses more and more power, drawing it from her friends in the fight against evil, she feels an addictive pull that challenges her control. And, in the end, Cass may be the greatest threat to those she loves the most.
The Review:
Dangerous Calling is the second book in the Shadowminds series about people who are gifted with telekinetic powers that help read peoples minds, shift things with their minds and some also have extra abilities like healing, finding people etc. Cass is one of those who has an extra ability, someone who can harness energy to make her gifts even more powerful but the things she takes the energy from pay the price be it nature or people and the power is becoming a need…an addiction.
When Cass is contacted by a woman and arranges a meeting, she is unprepared for the impact this meeting will have on her life. Diana is terrified when Cass first meets her, she is obviously running from someone but the bizarre meeting ends with Diana bailing whilst muttering that she has put 'both' of them in danger by meeting. Cass decides that she can't just leave things like that, she's concerned the woman is at risk and enlists Shanes help to find her but what she uncovers will uncover things she thought didn't exist. In the effort to rescue Diana who also happens to be clairvoyant, Cass needs more and more power to thwart the enemy who is constantly on their tail and finds herself pulling energy from wherever she can get it….. which does nothing for the growing need in her and her addiction and when Diana reveals her most shocking prophecy yet…. Cass has some choices to make.
I really enjoyed this book, it had an excellent progression in both characters and story.
Whilst Cass seemed like she had her life together – she and Shane had moved in together and things are good – she starts to struggle with the pull of wanting to take energy. This is a huge deal to Cass, she is terrified of killing someone and is trying with everything she has to abstain from using energy that isn't hers, she is trying to hide it from Shane too, creating a bit of tension between the pair. I love these two together and it was a shame to see that Cass was trying to hide things from him, obviously he is aware something is happening to her because he knows her and can read her and again, I LOVE his devotion to her, he literally would stand by her through anything and it is a major plus to his character for me.
The storyline was great, it really opened up their world as new people and supernaturals are introduced. I liked the premise of the book and the beginning was fab, it really got my interest from the start. I loved what Diana brought to the story with her clairvoyance and also the threat she brought down upon everyone. The enemy was very devious and they are all put in constant danger which keeps you on your toes for most of the book as they all try to keep one step ahead. There are multiple threads of story throughout the book and another story is going on alongside Diana's which was also good and brought something new, as well as a new character. I liked a lot of the things we find out in this but there are also some heartbreaking moments that bring you down to earth with a thud and make you realise just what is at risk and that nothing should be taken for granted. So, if you're looking for an action packed story filled with life threatening situations, supernatural powers and a nice dose of sexytime… look no further – I'll be looking out for book 3.
Thank you to Carina Press for giving me the opportunity to review this book in exchange for an honest review.