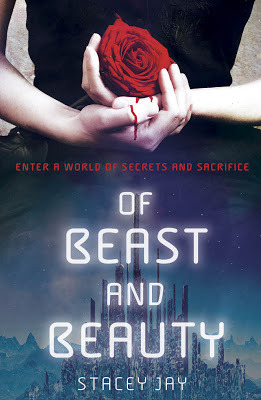 Posted by Donna
Release Date: July 23rd, 2913
Finished Date: October 3rd, 2014
Publishers:
Delacorte Press
Genre:
YA, Fantasy, Dystopian
Source: Gifted
Format: Hardcover
Pages: 391
In the beginning was the darkness, and in the darkness was a girl, and in the girl was a secret...
In the domed city of Yuan, the blind Princess Isra, a Smooth Skin, is raised to be a human sacrifice whose death will ensure her city's vitality. In the desert outside Yuan, Gem, a mutant beast, fights to save his people, the Monstrous, from starvation. Neither dreams that together, they could return balance to both their worlds.
Isra wants to help the city's Banished people, second-class citizens despised for possessing Monstrous traits. But after she enlists the aid of her prisoner, Gem, who has been captured while trying to steal Yuan's enchanted roses, she begins to care for him, and to question everything she has been brought up to believe.
As secrets are revealed and Isra's sight, which vanished during her childhood, returned, Isra will have to choose between duty to her people and the beast she has come to love.
The Review: Of Beast and Beauty is a beautiful re-telling of one of my favourite fairy tales; Beauty and the Beast, but it also has its own unique spin and I completely fell in love with the story that Stacey Jay has created.
Princess Isra – a Smooth Skin and the future queen of the domed city of Yuan – has grown up knowing she will eventually become a human sacrifice where her death will continue to keep Yuan thriving. Gem – a Monstrous who is trying to stop his people dying from starvation by trying to find out the secrets of the Smooth Skins – breaks into the domed City and is captured by Isra and her men. As Isra and Gem spend time together after Gem convinces her that he can help her save her people in return to help his, Isra realizes she wants to try and help the banished people in her City be accepted even though they have some Monstrous qualities – like Isra believes has and mainly due to her blindness. Neither Isra nor Gem is prepared for the unwanted feelings that they feel about each other. But how can these two fight the odds and change the world they live in?
I absolutely loved this book! I've had it sitting on my shelf for nearly two years and I have no idea why I didn't get to it sooner – I wish I had. The only other books of Stacey Jay's I've read are her Romeo and Juliet series which I really loved, so I did have hopes that this would be just as good. It wasn't just good – it was even better and it's now my favourite out of her work so far. And it definitely helped that this was a Beauty and the Beast re-telling.
Isra and Gem were fantastic characters to get to know and what made this story stand out even more – and it surprised me – was that it was told from dual narratives. You know how much of a fan I am of it and Isra and Gem's voices worked perfectly together. The story is surrounded by a lot of prejudice and we see a lot of it from Isra and Gem from the start of the story, but as it progresses you see them start to question a lot of what they've been lead to believe. I really enjoyed that they started to take their own feelings into account. It made the story interesting and very intense. I was dying for something to happen between them because you could see the spark, they just needed the push and when it happened, it was so worth the wait.
The plot of the story was brilliant! Even though it wasn't action-packed until the end of the story, it was entertaining and kept me guessing throughout. There was always something going on, so I didn't miss the action to be honest. It's full of danger and hidden secrets and it's really a gripping read.
In all, Of Beast and Beauty is definitely one of my favourite reads this year and my only regret is that I didn't read it sooner. I loved it and I cannot wait for Stacey Jay's next book, Princess of Thorns which releases later this year.