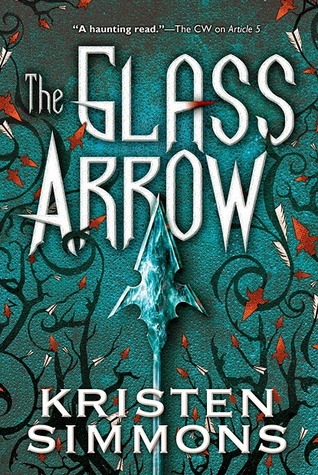 Posted by Donna
Release Date: February 10th, 2015
Finished Date:
April 20th, 2015
Publishers:
Tor Teen
Genre:
YA
, Dystopia, Romance
Source: For Review
Format: Hardcover
The Handmaid's Tale meets Blood Red Road in Glass Arrow, the story of Aya, who lives with a small group of women on the run from the men who hunt them, men who want to auction off breeding rights to the highest bidder.
In a world where females are scarce and are hunted, then bought and sold at market for their breeding rights, 15-year old Aya has learned how to hide. With a ragtag bunch of other women and girls, she has successfully avoided capture and eked out a nomadic but free existence in the mountains. But when Aya's luck runs out and she's caught by a group of businessmen on a hunting expedition, fighting to survive takes on a whole new meaning.
The Review: The Glass Arrow follows fifteen-year-old Aya who has been hunted all her life because she's a female. In her world, females are bought and sold at market for their breeding rights. Their lives are not their own, they are controlled by men and destined to produce male heirs to wealthy family that bought them and once they've done their jobs, they are resold and their journey starts all over again. Aya has been hiding in the woods for years until one day, she's captured and taken to a camp that prepare females for their duties but Aya will never give up on escaping and soon her life depends on it.
Another book by Kristen Simmons? Well that sold me straight away. I love her Article 5 series so I had really high hopes for this and while The Glass Arrow did have faults, it was a pleasant read.
I really struggled to get into the story when I first started reading but I'm glad I pushed through because once I got through the first 100 pages or so, the story picks up a lot and I soon found myself rooting for Aya. I loved that Aya was such a strong character. She's young for her age but she's so knowledgeable and very determined. It's easy to forget that she's only fifteen years old. And she has gone through so much in her life. She's suffered loss, hurt, pain in ways you can't imagine and I really sympathised with her.
It's not Aya is in seclusion that a boy from across the lake starts interacting with her. He can't talk so Aya finds herself opening up to him in many ways she's never done so before with anyone else. I loved this part of the story. I really liked watching Aya opening up to the boy who she names Kiran. It's here you truly get to know what type of person she is and also, even though Kiran doesn't say anything you start to discover there's more to him than meets the eye. He has his own secrets but he's a kind and loving person. And the romance between them is very swoon-worthy.
The plot of the story really picks up towards the end and it becomes a nail-biting read. And what makes this story so enjoyable is that it's a stand-alone and you all know we don't get many of them. While Aya's story is over, the world Aya lives in is still the same so if Kristen Simmons wanted to write more, I guess she could but I'd hope not in Aya's point of view. Maybe a different character?
In all, The Glass Arrow was an enjoyable read and I can't wait to see what Kristen Simmon's does next!
3.5 Stars!
Thank you to Tor Teen for giving me the opportunity to review this book in exchange for an honest review.