"Waiting On" Wednesday is a weekly event, hosted by Jill at Breaking the Spine, that spotlights upcoming releases that we're eagerly anticipating.
Donna's WoW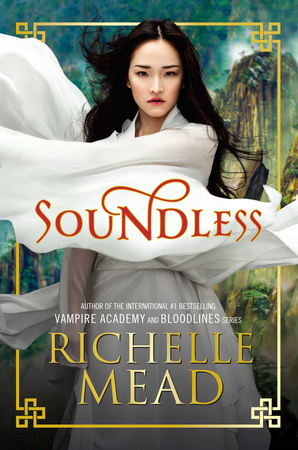 Soundless
by Richelle Mead
Release Date:
November 10th 2015
From Richelle Mead, the #1 internationally bestselling author of Vampire Academy and Bloodlines, comes a breathtaking new fantasy steeped in Chinese folklore.
For as long as Fei can remember, there has been no sound in her village, where rocky terrain and frequent avalanches prevent residents from self-sustaining. Fei and her people are at the mercy of a zipline that carries food up the treacherous cliffs from Beiguo, a mysterious faraway kingdom.
When villagers begin to lose their sight, deliveries from the zipline shrink and many go hungry. Fei's home, the people she loves, and her entire existence is plunged into crisis, under threat of darkness and starvation.
But soon Fei is awoken in the night by a searing noise, and sound becomes her weapon.
Richelle Mead takes readers on a triumphant journey from the peak of Fei's jagged mountain village to the valley of Beiugo, where a startling truth and an unlikely romance will change her life forever...
Donna's thoughts: This sounds so good! And it's Richelle Mead! I can't wait!
Melanie's WoW
The Barrier Between (Collector #2)
by Stacey Marie Brown
Release Date: June 2015
Zoey's life has taken a dramatic turn. Only a few months ago she was a Collector working for the a secret part of the government called the Department of Molecular Genetics (DMG), tracking and collecting fae. Her life had been changing and improving with a partner she loved and a sister she adored.
Now all that is gone—Daniel murdered by a fae, and Lexi killed when the Seattle area is devastated by a powerful, magical electrical storm. Zoey herself is altered by her association with the Wanderer, Ryker, in life-changing way.
Zoey discovered she was an experiment from the very company she worked for. She could die at any moment of a threatening defect—taking Ryker's magic with her.
In a race against time, Ryker and Zoey set out to find a way to transfer his powers back before it's too late. Their journey takes them to the rainforests of South America, dealing with those who are after something Ryker possesses and who will stop at nothing to obtain it for themselves.
What Zoey and Ryker discover can destroy them or tear them a part for good.
Melanie's thoughts:
WOW - I'm really looking forward to this because I love this author and everything she has done so far and I also love the world & characters that she created for both of her series.
<
What's your "waiting on" pick this week?
Want to participate?
Grab the logo, post your own WoW entry on your blog, and leave your link at Breaking the Spine.