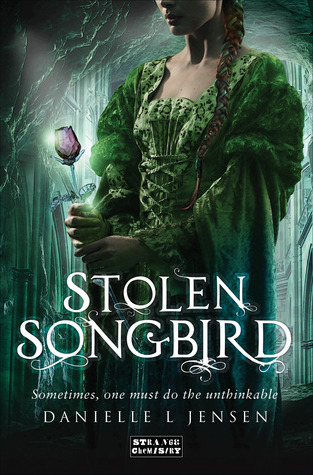 Posted by Donna
Release Date: April 1st, 2014
Finished Date:
April 6th, 2015
Publishers:
Strange Chemistry
Genre:
YA, Fantasy, Romance
Source: Bought
Format: Paperback
Pages: 469
For those who have loved Seraphina and Graceling comes another truly fabulous fantasy...
For five centuries, a witch's curse has bound the trolls to their city beneath the ruins of Forsaken Mountain. Time enough for their dark and nefarious magic to fade from human memory and into myth. But a prophesy has been spoken of a union with the power to set the trolls free, and when Cécile de Troyes is kidnapped and taken beneath the mountain, she learns there is far more to the myth of the trolls than she could have imagined.
Cécile has only one thing on her mind after she is brought to Trollus: escape. Only the trolls are clever, fast, and inhumanly strong. She will have to bide her time, wait for the perfect opportunity.
But something unexpected happens while she's waiting – she begins to fall for the enigmatic troll prince to whom she has been bonded and married. She begins to make friends. And she begins to see that she may be the only hope for the half-bloods – part troll, part human creatures who are slaves to the full-blooded trolls. There is a rebellion brewing. And her prince, Tristan, the future king, is its secret leader.
As Cécile becomes involved in the intricate political games of Trollus, she becomes more than a farmer's daughter. She becomes a princess, the hope of a people, and a witch with magic powerful enough to change Trollus forever.
The Review:
For the past year all I've heard about is Stolen Songbird by Danielle L. Jensen and being a big YA fantasy fan I knew this was something I wanted to read but when I started I don't think I was prepared for the epicness that is this book!
On her seventeenth birthday Cécile is kidnapped and taken into the depths of Trollus, a city beneath a ruined mountain which is the home to thousands of Trolls. It is there that Cécile learns that the Trolls have been trapped for centuries after a witch placed a curse on them and Cécile has a role to play – she's to marry the trollus prince in order to fulfil a prophecy that will set the trolls free.
The last thing Cécile wants is to be stuck beneath the mountain for the rest of her life and make a vow that she will do whatever it takes to get free. But the more time she spends in Trollus is the more she sees that there are many mysteries to uncover and the more time she spends with the troll prince the more finds she doesn't hate him as she once thought.
Wow. Talk about mind-blown. This book is amazing! One I started, I couldn't put it down and thank god that it was bank holiday weekend because I managed to read it all within two days. It's such a beautiful and magical read that it was impossible to put down. It's written perfectly that gives you enough information to create a perfect world building that makes you feel as though you're there with the characters too. The magic was a great added touch that added to the mystery and beauty of the story and more importantly this is such a unique and strong read. I've not read much on Trolls myself, so for me this was a more enjoyable story because it was so completely unknown to me.
Not only does the author write a strong plot but she also writes strong characters too. Cécile has so much taken away from her but no matter what she remains strong and dedicated to her goals. But I loved that she was such an open minded character. She really makes this story. And Tristian, the prince of Trollus…..oh wow! I was expecting to like him like I did. He's also a strong character but he has a role to play and sometimes that means not always being nice, but as the story progresses you end up loving him because he's so lovable deep down. Cécile and his relationship is a slow burning one but one that makes you root for them from the start.
And the ending, that ending! The only good thing about reading the book this month means I only have to wait 2 months for Hidden Huntress which I've already pre-ordered. I can't wait!