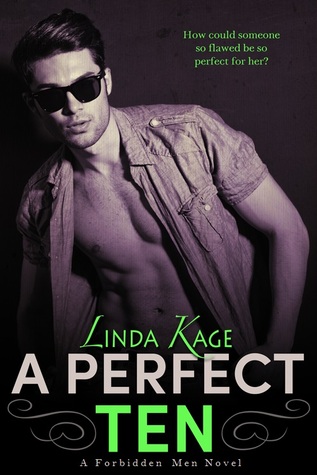 Posted by Donna
Release Date: March 30th, 2015
Finished Date:
March 20th, 2015
Publishers:
Self Published
Genre: N
A,Romance, Contemporary
Source: For Review: Tasty Book Tours
Format: eBook
Pages: 434
Let your hair down, Caroline, they said. It'll be fun, they said.
I know I've closed myself off in a major way over the past year, ever since "the incident" where I messed up my life completely. It's past time I try to live again or just give up altogether. But this is quite possibly the craziest thing I've ever done. In a last ditch effort to invigorate myself, I'm standing outside Oren Tenning's bedroom, I just peeled off the sexiest pair of underwear I own, and my hand is already raised to knock. My brother would disown me for doing anything with his best friend, and he'd probably kill Oren. But if I play my cards right, no one will ever know about this. Not even Ten.
Maybe after tonight, I'll finally get over this stupid, irrational crush I hate having on the biggest jerk I've ever met. Or maybe I'll just end up falling for him even harder. Maybe I'll discover there's so much more to my crude, carefree hunk than meets the eye.
The Review:
I've been dying to get my hands on Ten and Caroline's story ever since I first heard they were getting their own book. The wait was torture but finally it's here. It's here!
Oren Tenning plays the field, he plays girls and he's more than happy to tell everyone about his conquests. But the one girl he wants Caroline Gamble, he can't have because to do so would mean losing his best friend.
Caroline Gamble has been attracted to Oren Tenning since the moment she meet him. The problem is, he's best friends with her brother and therefore she knows Oren won't touch her. She knows because she's tried twice and twice she's been turned down by him. But Caroline is determined to get the man she wants even if she has to resort to extreme measures.
I absolutely loved A Perfect Ten and I couldn't have asked for a better outcome from Caroline and Ten's story. I just loved the way this whole story was set up - it's something very original and in all honestly, fun. Caroline has some major balls to do what she did - I don't know if I could have done it no matter how much I wanted a guy - but bravo to her. She went after the man she wanted and even though it was a bumpy ride, it was a great journey and it was highly emotional, entertaining and hard to put down. I loved every minute of it.
Ten and Caroline are a great duo and if I'm honest, they're very similar characters and have a lot of qualities the same. I really enjoyed that because it showed that they were the perfect match for each other.
And as normal, another reason I love this series is the support the characters get from the other characters that feature in the series. I love the older one - that have already had their stories told but then I love the new ones like Asher - yep! And I'm definitely excited to see more from Parker. In all honestly, I don't want this series to ever end so I'm going to continue to look forward to more books in the Forbidden Man series.
In all, A Perfect Ten is a perfect TEN star read!
Thank you to Linda Kage for giving me the opportunity to review this book in exchange for an honest review.
EXCERPT #1
The entire notion was crazy. I would never in a million years actually go through such a thing.
An hour later, thousands of voices in my head shrieked. "For the love of God, Caroline. What're you doing?"
"Shh," I hissed at the annoying shits. "I'm doing this."
I slipped inside the front door to Quinn, Oren, and Zoey's apartment. If anyone caught me, I already had an excuse handy. I was here to see Zoey. To talk important girl stuff. Yeah. That sounded good. And I really would talk to her if I was caught...about the fact that I'd lost my ever-loving mind!
Pausing at the beginning of the hall, I took a moment to bolster my nerve. Oren's bedroom was the first door on the right. Only ten feet away. Drawing in a deep breath, I started to step forward when an idea hit me. Scrambling, I reached under my skirt for the panties I'd raced home to change into, and I peeled them down my legs.
I know, I know. They were the nicest underwear I owned. Why was I taking them off before he could even see the goods? Well, probably because, if we stayed in the dark like we were supposed to, he'd never see them anyway. And tonight, I just wanted to be bold and promiscuous. If I was really going to do this, I was going to do it right.
Pantyless, I stopped in front of his door and lifted my palm, but instead of knocking, I set my fingers against the wood. He was on the other side of this door, waiting for me.
Okay, fine, waiting for some other girl. But if I knocked and went inside, it'd be me he took.
A thrill raced up my spine, and butterflies danced in my stomach.
Linda grew up on a dairy farm in the Midwest as the youngest of eight children. Now she lives in Kansas with her husband, toddler daughter, and their nine cuckoo clocks. She works a day job in the acquisitions department of a university library and feels her life has been blessed with lots of people to learn from and love. Writing's always been a major part her world, and she's thrilled to finally share some of her stories with other romance lovers.
You can find Linda on the web at: