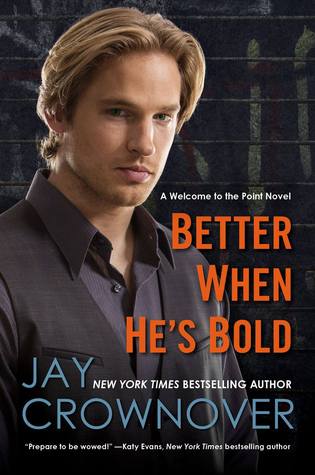 Posted by Donna
Release Date: February 3rd, 2015
Finished Date:
March 27th, 2015
Publishers:
William Morrow & Company
Genre:
Adult, Contemporary, Romance
Source: For Review
Format: Paperback
Pages: 400
Some men are just better when they're bold.
Welcome to the Point...
In a dark and broken kingdom, a ruler has to be fearless to control the streets and the ruthless people who run them.
Race Hartman is just bold enough, just smart enough, and just lost enough to wear the crown. Places like the Point will always have bad things and bad people, but the man in control of all that badness can minimize the devastation. Race has a plan, but can he prevent total annihilation without destroying himself?
Brysen Carter has always seen her best friend's brother for what he is--too pretty, too smooth, and way too dangerous to touch. Basking in Race's golden glow is very tempting, but Brysen knows she'd eventually get burned.
When she starts receiving threatening texts and someone tries to take her out in parking lot, the only person interested in keeping her safe is the one man she can't allow herself to have.
Sometimes being bold is the only way to stay alive. But can she let Race save her life . . . if it means losing herself to him?
The Review: Better When He's Bold is the sequel to Jay Crownover's Better When He's Bad and what an smouldering, sexy and BOLD read it is!
Race Hartman betrayed his best friend in order to save his sister Dovie and that's something he has to live with for the rest of his life. Now he's trying to create some order in The Point and has taken on a business partner to help him. Race knows he can't change The Point but he will do his best to make the damage minimal, especially now he's in charge.
Brysen Carter might appear to be the girl from the right tracks but pretending isn't always what it seems and Brysen seems to do a lot of that lately. Especially when her home life keeps dragging her down and it's only going to get worse.
When Brysen starts receiving threatening text messages and someone tries to run her over in the parking lot outside of her work, there's only one person she can turn to and that's her best friends brother – Race, whom she's determined to not get attached to because she knows she'll only get hurt, especially with his role within the Point. But soon, Brysen and Race start to depend on each other much than they'd both like but there is much more going on that they know about and soon both of them are in danger…….
Hello Race Hartman! I loved Better When He's Bad and so I went into Better When He's Bold with high expectations and Jay Crownover met them all. Seriously, this woman is a writing machine and definitely knows how to produce an awesome book that leaves you wanting more and more. Seriously, I want more. Better When He's Bold is just as edgy, dangerous, exciting, riveting and addictive as Better When He's Better Bad and I enjoyed this instalment just as much as the first. Race and Brysen has a completely different story than Bax and Dovie and it was really refreshing going into their story and not knowing what to expect. Race is one bold guy. Not only that, he's super smart and I loved that he was different. He's a good guy with just a touch of bad in him and everything he's doing; he's trying to make a better place out of The Point even though he won't be able to make it a lovely place to live. He's trying to make it bearable for people and not so dangerous.
Brysen brings her own set of problems to the story and once again, it was refreshing to read about her story and find out how it's fits into Race's world. Brysen's father – grrrr! What a douche! And her Mother was no better either. But I enjoyed the plot of their story and the end results were nerve-racking but exciting to read about.
What else I loved about the story and the series so far is the secondary characters. Bax's brother Titus is a great addition to the series but I'm starting to believe that maybe Nassir – Race's new business partner may be one to watch out for too. And then we also have Brysen's sister Karsen. A potential story may be brewing there too.
In all, Welcome to the Point has proved to be another addictive and smokin' hot series by Jay Crownover and I'm seriously left wanting more, so thank god there's more to come with Titus's book - Better When He's Brave. Yay!
Thank you to Harper 360 for giving me the opportunity to review this book in exchange for an honest review.