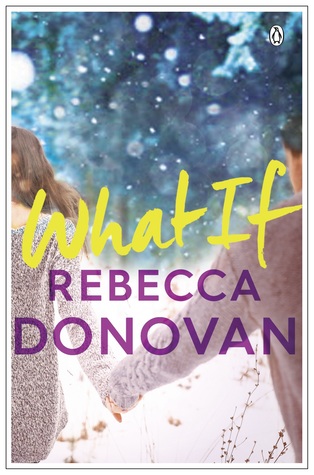 Posted by Donna
Release Date: January 22nd, 2015
Finished Date:
February 6th, 2015
Publishers:
Penguin
Genre:
N
A, Contemporary, Romance
Source: For Review
Format: Paperback
Pages: 384
What if you had a second chance to meet someone for the first time?
Cal Logan is shocked to see Nicole Bentley sitting across from him at a coffee shop thousands of miles from their hometown. After all, no one has seen or heard from her since they graduated over a year ago.
Except this girl isn't Nicole.
She looks exactly like Cal's shy childhood crush, but her name is Nyelle Preston and she has no idea who he is. This girl is impulsive and daring, her passion for life infectious. The complete opposite of Nicole. Cal finds himself utterly fascinated and falling hard. But Nyelle is also extremely secretive. And the closer he comes to finding out what she's hiding, the less he wants to know.
When the secrets from the past and present collide, one thing becomes clear: Nothing is what it seems.
The Review: Cal Logan hasn't been able to get his mind off one of the girls he grew up with – Nicole Bentley. They used to be close but Nicole left him behind for a new set of friends. When Nicole enrols at Harvard and no-one sees or hears from her, Cal can't get his mind off of her. But one night at a party, he meets a girl who looks exactly like Nicole except this girl doesn't act like the Nicole he knew. Gone is the shy person and instead Nyelle is outgoing and strangely addictive. The more time that Cal spends with Nicole the more he's determined to get the truth.
I wasn't sure what to expect before heading into What If. I've only had one other experience with Rebecca Donovan as an author and I had major issues with it, so of course a part of me was hoping this time I would been blown away because I know so many people love her work. But unfortunately I was left disappointed.
What If is a mysterious story about four childhood friends who seem to lose touch of the years. During the story we have Cal telling the main part of the story but we also get flash backs from the other characters told from when their childhood days. I enjoyed how the story was told. Going back and forth from past to present but I struggled to connect to the childhood days. While I was reading the story was I was trying to think how these chapters fit into the story and even now I'm still impressed by how well these chapters were written and how it tells a past story.
The main issue for me were the characters. They were all so flat. As a main character Cal didn't stand out. There was nothing about him that excited me and he doesn't do anything daring. Overall he's a very bland character. Then we have Nyelle who I just didn't really like. Her character was weird and I didn't get her reasoning's for doing anything she did. She acted half-crazy most of the time and was really aloof.
I understand there is more going on in this story than what we're first lead to believe and some of the issues are quite heavy, but I just don't think the author took enough time to explore the issues. And eventually by the time I came to the end of the story and the big reveal happened, I had no excitement for it. I was actually pretty disappointed with it.
In all, What If just wasn't for me but I know a lot of people love Rebecca Donovan's work therefore I'd still urge you to read it and make up your own mind.
Thank you to Penguin for giving me the opportunity to review this book in exchange for an honest review.