"Waiting On" Wednesday is a weekly event, hosted by Jill at Breaking the Spine, that spotlights upcoming releases that we're eagerly anticipating.
Donna's WoW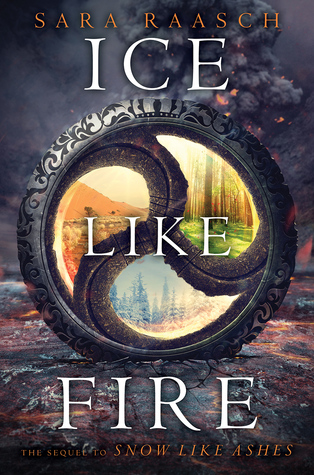 Ice Like Fire (Snow Like Ashes #2)
by Sara Raasch
Release Date: October 13th, 2015
It's been three months since the Winterians were freed and Spring's king, Angra, disappeared—thanks largely to the help of Cordell.
Meira just wants her people to be safe. When Cordellan debt forces the Winterians to dig their mines for payment, they unearth something powerful and possibly dangerous: Primoria's lost chasm of magic. Theron sees this find as an opportunity—with this much magic, the world can finally stand against threats like Angra. But Meira fears the danger the chasm poses—the last time the world had access to so much magic, it spawned the Decay. So when the king of Cordell orders the two on a mission across the kingdoms of Primoria to discover the chasm's secrets, Meira plans to use the trip to garner support to keep the chasm shut and Winter safe—even if it means clashing with Theron. But can she do so without endangering the people she loves?
Mather just wants to be free. The horrors inflicted on the Winterians hang fresh and raw in Januari—leaving Winter vulnerable to Cordell's growing oppression. When Meira leaves to search for allies, he decides to take Winter's security into his own hands. Can he rebuild his broken kingdom and protect them from new threats?
As the web of power and deception weaves tighter, Theron fights for magic, Mather fights for freedom—and Meira starts to wonder if she should be fighting not just for Winter, but for the world.
Donna's thoughts: I need this book like now. October seems too far away. I need more Theron!
Melanie's WoW
Grave Visions (Alex Craft #4)
by Kalayna Price
Release Date:
March 25th 2015
Grave Visions by Kalayna Price is the much-anticipated fourth installment in the kick-ass urban fantasy series about Alex Craft, a grave witch who can communicate with the dead.
If you want to hear voices from the dead in Nekros City, you call Alex Craft. She's a Grave Witch with reasonable rates and extraordinary powers, who specializes in revealing the secrets of the dead. But now she's the one fighting to keep her own secret. She's not human—and her newly discovered heritage is causing havoc for her both in the human realm and in Faerie. But her status as an unaffiliated fae also makes her an ideal candidate to investigate a new street drug that has surfaced in several of the spaces between the human and fae worlds.
This glamour-infused drug causes hallucinations that turn real—at least for a while and often with deadly consequences. Searching for the source of this drug—and its purpose—lands Alex front and center in the conflict brewing in Faerie and she must find answers before she's dragged so deep she loses her freedom.
Melanie's thoughts:
I've been waiting for this book for about two years if not longer! It's such a fab UF series and I was hooked from the start and I'm definitely shipping Alex & Death. hopefully the March release date doesn't get pushed back again (fingers crossed)
<
What's your "waiting on" pick this week?
Want to participate?
Grab the logo, post your own WoW entry on your blog, and leave your link at Breaking the Spine.