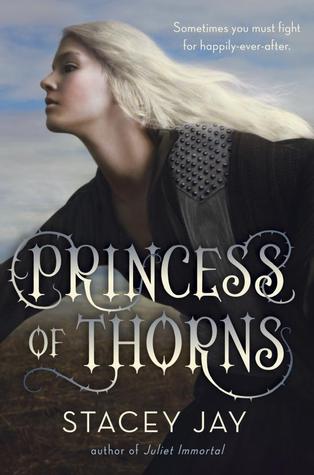 Posted by Donna
Release Date: December 9th, 2014
Finished Date:
December 21st, 2014
Publishers:
Delacorte Press
Genre:
YA, Fantasy, Retelling, Romance
Source: Bought
Format: Hardcover
Pages: 400
Game of Thrones meets the Grimm's fairy tales in this twisted, fast-paced romantic fantasy-adventure about Sleeping Beauty's daughter, a warrior princess who must fight to reclaim her throne.
Though she looks like a mere mortal, Princess Aurora is a fairy blessed with enhanced strength, bravery, and mercy yet cursed to destroy the free will of any male who kisses her. Disguised as a boy, she enlists the help of the handsome but also cursed Prince Niklaas to fight legions of evil and free her brother from the ogre queen who stole Aurora's throne ten years ago.
Will Aurora triumph over evil and reach her brother before it's too late? Can Aurora and Niklaas break the curses that will otherwise forever keep them from finding their one true love?
The Review: After completely falling in love with Of Beast and Beauty earlier this year, I just knew I had to get my hands on Princess of Thorns as soon as it was released. And it's safe to say that Stacey Jay has blown me away yet again with another phenomenal retelling and I can't wait to see what's next for her.
When her younger brother Prince Jor is taken prisoner by the Orge Queen whom killed her mother and took her throne Princess Aurora mission is simple, she must raise an army that can help rescue her brother and take back her throne before it's too late that her Kingdom and the rest of the world is overthrown by the Orge Queen. Posing as a boy makes Aurora's journey simpler and when she meets Prince Niklaas with secrets of his own, it's clear that they can help one another. But can Aurora and Niklaas do the impossible with time ticking down so quickly?
Princess of Thorns is simply an amazing and breath-taking read. From the moment I started reading I just knew I was going to love it just as much as Of Beast and Beauty and every moment I had to put the book down, it was all I could think about it until I could pick it back up again. I wouldn't really call it a Sleeping Beauty re-telling, it does have a few similar traits but Stacey Jay takes the idea of Sleeping Beauty's story and twists the idea to make the story really her own.
Aurora is such a fantastic character. Yes she's stubborn as a mule but I loved that because she made the story so entertaining. She's quirky, sassy and very feisty. She's determined to do the impossible and even when it looks impossible, she remains headstrong. She's a very selfless character, willing to sacrifice everything for others. Who wouldn't love her?
And then we have the other half of the story Niklaas. Oh sweet Niklass. I instantly loved him. Although he seeks Aurora out for his own goal, he's always honest about his intensions. He doesn't hide and is an honest character. I loved that while Niklaas thought Aurora was a boy called Ror, he recognised that he had a deep connection to her/him. I think it took him a while to realise what his true feeling were but I enjoyed watching him figure it out. He and Aurora are best friends and their love for one another shone throughout the story – even while they were trying to deny it themselves.
The plot of the story is full of adventure, mischief, danger and many secrets. It's one a world that you want to get lost in and unravel it piece by piece and then when it's over, you're left wanting more.
In all, I can't praise this book enough. I loved it. I want to re-read it already. And I'm simply praying and hoping that Stacey Jay isn't done with writing retellings because I'm dying for something else by her.