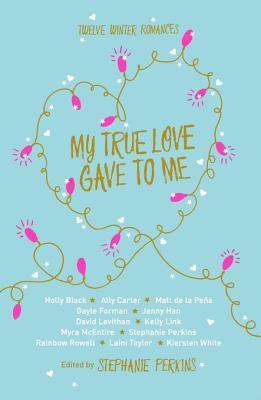 Posted by Donna
Release Date: October 9th, 2014
Finished Date:
December 24th, 2014
Publishers:
Macmilliam Children's Book
Genre:
YA, Contemporary, Romance, Holiday
Source: For Review
Format: Hardcover
Pages: 355
If you love holiday stories, holiday movies, made-for-TV-holiday specials, holiday episodes of your favorite sitcoms and, especially, if you love holiday anthologies, you're going to fall in love with MY TRUE LOVE GAVE TO ME: TWELVE HOLIDAY STORIES.
On the first day of Christmas, my true love gave to me ...
This beautiful collection features twelve gorgeously romantic stories set during the festive period, by some of the most talented and exciting YA authors writing today.
The stories are filled with the magic of first love and the magic of the holidays.
The Review: Ever since I received My True Love Gave to Me I've been dying to read it. But like many others, I decided to read it closer to Christmas for the festive feeling and what a fantastic idea it was.
My True Love Gave to Me features twelve stories wrote by twelve different authors. With some authors I was already familiar with some of their previous works but some, I had never heard of. And while most stories were easy enough to read and pleasantly enjoyable, there were a few little gems that stood out and really left me wanting more of the story - I'm not sure that's supposed to happen with anthologies, but hey, it did....but here are my favourite's........
Midnights by Rainbow Rowell;
What a perfect way to start this book. Midnights by Rainbow Rowell is a cute read - one that has a wonderful set of characters. Noel and Mags relationship is clear from the very start of their story. It's a relationship that continues to grow throughout the years of their friendship and it's clear to see when things become that little bit more to each of them. I really enjoyed the little chapters giving us details of their past New Years Eve's together and the countdown was fun to read too. You know it's a good story when you're left wanting more once you've finished.
Polaris is Where You'll Find Me by Jenny Han;
This has to be my favourite from the story. I really loved Natty and I really felt for her situation. With Natty living with elves in the North Pole and her adopted father being Santa Claus, this story was simply refreshing to read. Something different. Something new. Something I've never read before. Even though I did wish for that little bit more towards the end of Natty's story, I remained hopeful that she got her big wish. Another well done for Jenny Han!
It's a Yuletide Miracle, Charlie Brown by Stephanie Perkins;
Simply perfect! A sweet and cute story that although was a little too long is still fully enjoyable. The way the romance is told in the story is very unexpected but once it happens, you can't help but want to hold on to it. It's about two characters coming together and helping each other out.
In all, My True Love Gave to Me has a good mixture of different stories to keep readers entertained and will bring your spirits up for the holidays. Definitely a great pick to read over the holidays.
3.5 flowers!
Thank you to
Macmillan Children's Books
for giving me the opportunity to review this book in exchange for an honest review.