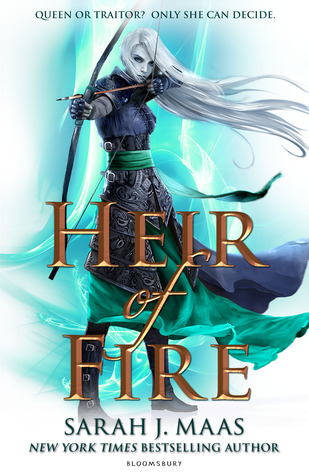 Posted by Donna
Release Date: September 11th, 2014
Finished Date:
May 20th, 2015
Publishers:
Bloomsbury Children's Books
Genre:
YA
, Fantasy
Source: For Review
Format: Paperback
She was the heir of ash and fire, and she would bow to no one.
Celaena Sardothien has survived deadly contests and shattering heartbreak—but at an unspeakable cost. Now she must travel to a new land to confront her darkest truth...a truth about her heritage that could change her life—and her future—forever.
Meanwhile, brutal and monstrous forces are gathering on the horizon, intent on enslaving her world. To defeat them, Celaena must find the strength to not only fight her inner demons but to battle the evil that is about to be unleashed.
The king's assassin takes on an even greater destiny and burns brighter than ever before in this follow-up to the New York Times bestselling Crown of Midnight.
The Review: I'm so glad I decided to read Heir of Fire straight after Crown of Midnight and I finished it just in time for Sarah's book signing in Birmingham - which was fantastic! It was so great meeting her and it's made me even more excited to get my hands on Queen of Shadows.
After the ending in Crown of Midnight, Celaena is on a new journey for the King but once again realises she can not carry out the tasks he wishes and therefore she finds herself seeking out her long-lost aunt who rules the fae kingdom with hopes that Maeve can provide her the information she needs to destroy the Kings plans. But upon arrival Celaena is not given entry and instead must prove her fae heritage with a series of tasks set out by Rowan - one of Maeve's personal fae guards. But as Celaena tries to do what is asks, its hard for her because of the pain and guilt that still surrounds her and, in order to prove who she is, she needs to conquer her fears for once and for all.
I didn't think anything could be as good as Throne of Glass or Crown of Midnight but Heir of Fire brings some truly remarkable, emotional and heart-breaking times that made me love this book even more than the previous ones. Reading this was like watching the author pour her heart and soul over the pages so that she could reflect Celaena's emotions perfectly.
A lot does happen but mainly it focuses on Celaena's self discovery and I truly loved it. I felt that it was time for Celaena to come to terms with who she really was and to try and let go of all the guilt that she carried out from the people she's lost.
I loved that this felt like a more of a set up book - where the author focuses more on Celaena's personal journey while trying to set up everything for the next book. Don't let that put you off. There is enough action, secrets and romance to keep you going but it really leaves you wanting more. But overall, I was glad for the journey that Celaena takes because we definitely get to see a different side to her. She's almost broken where she's willing to give up everything and that was emotional because that's not the Celaena we've seen before. She really has to fight to become the person she was, to the person she is, by trying to merge the two together and finally become the person she is supposed to be.
In this book we see our favourite characters - Celaena, Dorian and Chaol whom all have their own journey's to take so unfortunately they don't get much or no time together. But it also brings new characters forward such as Rowan, Aedion & Manon. All three of these new characters definitely add a spark to the story and don't slow it down one bit. If anything, they add to the excitement and depth of the story and I'm definitely looking for to reading more about them. Rowan definitely has to be my favourite from the new addition and you'll see why once you read the book for yourselves.
Heir of Fire is without a doubt a fantastic read! It's one that will make you laugh and cry and really pull on your emotions but one that also leaves you breathless because it's full of epic details and you just know that the next three books aren't going to easy for your most beloved characters. I'm almost scared to read them but I know it's going to be worth it.
Thank you to Bloomsbury Children's Books
for giving me the opportunity to review this book in exchange for an honest review.