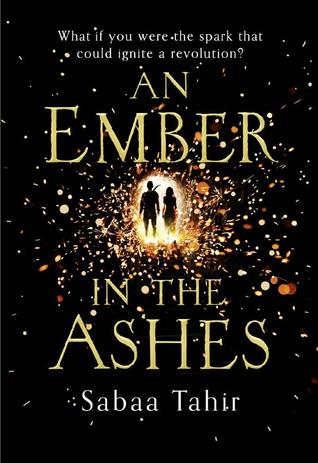 Posted by Donna
Release Date: June 4th, 2015
Finished Date:
May 3rd, 2015
Publishers:
Harper Voyager
Genre:
YA
, High Fantasy
Source: For Review
Format: Paperback
Set in a terrifyingly brutal Rome-like world, An Ember in the Ashes is an epic fantasy debut about an orphan fighting for her family and a soldier fighting for his freedom. It's a story that's literally burning to be told. LAIA is a Scholar living under the iron-fisted rule of the Martial Empire. When her brother is arrested for treason, Laia goes undercover as a slave at the empire's greatest military academy in exchange for assistance from rebel Scholars who claim that they will help to save her brother from execution. ELIAS is the academy's finest soldier-- and secretly, its most unwilling. Elias is considering deserting the military, but before he can, he's ordered to participate in a ruthless contest to choose the next Martial emperor. When Laia and Elias's paths cross at the academy, they find that their destinies are more intertwined than either could have imagined and that their choices will change the future of the empire itself. Vow your blood and body to the empire. Keep your heart for yourself.
The Review:
Pegged as one of the biggest reads this year, An Ember into the Ashes is a page turning debut by Sabaa Tahir!
Told by alternative narratives we have Elias and Laia both telling their own stories as well as the horrors and cruelty of the world they live in.
Elias is a Mask, a solider who has nearly finished his training at Blackcliff Military Academy. But Elias is hiding his true feelings from everyone – he hates his life and wishes for nothing more than to escape from it and his mother who is the Commandant of the Academy, and he plans to do so until he's offered an opportunity he can't refuse.
Laia is a slave, a girl who has lost everyone she's ever loved and now he brother has been taken captive by the Martial Empire and is being called a traitor. Laia is determined to save her brother and therefore joins the Resistance. But she's given a task. She must work as a slave to the Commandant and spy on her to provide the Resistance important information. But the Commandant is as evil as they come and she takes pleasure in hurting her slaves.
As Elia and Laia both take their own journey to achieve the freedom they both crave, their lives get tangled when they keep crossing paths. Can they save themselves before everything they care about is lost to them?
Whenever I hear about a book that has a lot of hype surrounding it I'm intrigued, not matter what. Add in the fact that I love a good YA fantasy read, well then An Ember in the Ashes should have been perfect for me. But unfortunately while it was a page turning debut it wasn't as an epic as I was expecting it to be. There's no denying that Sabaa Tahir is a talented writer that has a keen eye for detail and can create a world like no other, it's just the plot of the story was a little flat in places especially because the story is so slow paced. I can stick with a plot that is slow but I need something to happen towards the end and while something does happen, it's still very slow paced.
I liked both of the main characters and both have completely different paths and personalities. Both had their own voice and I enjoyed the alternative narratives. I would have liked for Laia to have been a stronger character though. I just wish their story was more intertwined than it was. I was expecting some epic romance and we didn't get that. What we got was two different love triangles which confused me. It was hard to know who really liked who and who to actually root for. Even in the end, I'm still not sure if there is a solid love interest between Elias and Laia.
The big question for me is will this become a series? For me it HAS to be a series. There are just too many unanswered questions and plot holes not filled. There has to be more.
Thank you to Harper Voyager for giving me the opportunity to review this book in exchange for an honest review.