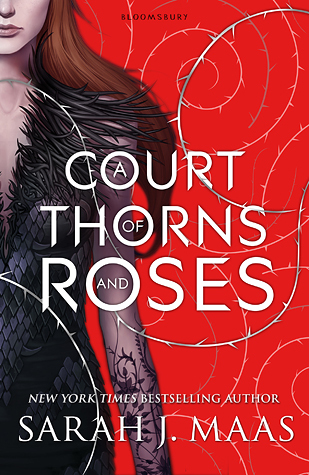 Posted by Donna
Release Date: May 7th, 2015
Finished Date:
January 27th, 2015
Publishers:
Bloomsbury Children's
Genre:
YA, Fantasy, Romance
Source: For Review
Format: Paperback
Pages: 432
The breathtaking start to a seductive high-fantasy from New York Times bestselling author of Throne of Glass series.
Feyre's survival rests upon her ability to hunt and kill – the forest where she lives is a cold, bleak place in the long winter months. So when she spots a deer in the forest being pursued by a wolf, she cannot resist fighting it for the flesh. But to do so, she must kill the predator and killing something so precious comes at a price.
Dragged to a magical kingdom for the murder of a faerie, Feyre discovers that her captor, his face obscured by a jewelled mask, is hiding far more than his piercing green eyes would suggest. Feyre's presence at the court is closely guarded, and as she begins to learn why, her feelings for him turn from hostility to passion and the faerie lands become an even more dangerous place. Feyre must fight to break an ancient curse, or she will lose him forever.
The Review: Sarah J. Maas can simply do no wrong when it comes to writing fantastic fantasy stories because A Court of Thorns and Roses is a magical and deadly start to a brilliantly crafted new series.
Feyre's job has been to look after her family and when the winter months come, her skills are pushed to the limits because she needs to provide for her family otherwise, it means they starve. So when she sees a wolf in the forest going after a deer - a deer that she needs, it's there that she knows she needs to kill the distracted wolf, but doing so comes at a price. For killing the wolf she must forfeit her life and live in a magical kingdom with faeries - and her captor in particular is hiding more than he says. Feyre has a role to play, one where she must help break an ancient curse otherwise the faeries will lose everything they have. But can Feyre come to love the person who has taken her away from all she loves?
As soon as I heard about A Court of Thorns and Roses I knew I wanted to read it. A retelling of my favourite Disney fairy tale but written by Sarah J. Maas? Who would want to miss out on this masterpiece? I just knew it would be amazing and of course, Sarah delivered in every way. Even with the slow start to the story, I just knew it would all be worth it in the end and it was. It really was. Because if you like a good retelling with strong minded role models, with an awesome plot and a touch of magic, then this is for you.
Prythian is a scary place. If you're a human, you really don't want to be there. So I honestly felt for Feyre because how do you ever find peace when you always have to be on your guard? Prythian is full of nasty and scary creatures popping up whenever they like and it's truly dangerous. Not just for Feyre but for Tamlin and his workers to. Tamlin is always telling Feyre to not wonder. Stay indoors. But Feyre is curious and like I said before, very strong minded that her curiosity gets the best of her and it leads to some dangerous but exciting scenes which added the right mix to the story. I loved that Feyre wasn't a push over. She sticks up for herself. She hardly ever breaks down - even though I know I would have many of times. I admire her for this. She's not weak in any way form and once she starts to build that connection to Tamlin and Lucien, in my eyes, she only becomes stronger.
Her connection to Tamlin is a slow one. It's one that comes with many frustrating times but added to the suspense to the story. There relationship grows and really blossoms and by the end, it's hard not to sigh when these two are together. You can see they still have a tough journey ahead of them but I'm looking forward to reading more.
In all, A Court of Thorns and Roses is definitely a read you'll want to read this year because Sarah J. Maas will drag you in with her beautiful well written story and will capture your full attention leaving you wanting more.
Thank you to Bloomsbury for giving me the opportunity to review this book in exchange for an honest review.