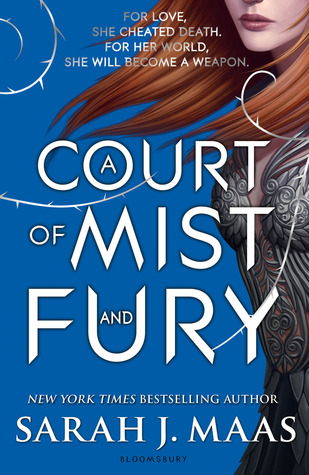 Posted by
Donna
Release Date: May 3rd, 2016
Finished Date:
August 24th, 2016
Publishers:
Bloomsbury
Genre:
YA, Fantasy
Source: Bought
Format: Paperback
Pages: 624
Buy:
Amazon UK
/
Amazon US / The Book Depo
Feyre is immortal.
After rescuing her lover Tamlin from a wicked Faerie Queen, she returns to the Spring Court possessing the powers of the High Fae. But Feyre cannot forget the terrible deeds she performed to save Tamlin's people - nor the bargain she made with Rhysand, High Lord of the feared Night Court.
As Feyre is drawn ever deeper into Rhysand's dark web of politics and passion, war is looming and an evil far greater than any queen threatens to destroy everything Feyre has fought for. She must confront her past, embrace her gifts and decide her fate.
She must surrender her heart to heal a world torn in two.
The Review:
After reading A Court of Thorns and Roses last year like everyone else I couldn't wait to get my hands on the next book in the series A Court of Misty and Fury. However I started seeing early reviews of the book and it put me off. So I waited. Then I started hearing more things about the book and still I waited. I guess you want to know why I waited? Well I finished ACOTAR knowing that Feyre and Tamlin were together, safe and somewhat happy. I was excited to see what the next story would bring but hearing things about a possible break-up? I was so not happy! I refused to believe it and tried to hide from the book because at that point I was firmly Team Tamlin. But certain bookish friends kept feeding me pieces of the story and so, what can I say? Curiosity got the better of me and I finally felt ready to read ACOMAF. And my gosh I was honestly lost for words after.
A Court of Mist and Fury is really Feyre realising she is more than she thinks she is. She was weak as a human and now she's been turned into an immortal – fae like Tamlin and Rhysand, she's no longer weak. Even though Tamlin tries to keep her that way. Tamlin still looks at her as unbreakable and will do anything to keep her safe even if that means keeping her from developing her gifts, trying to keep her busy with their upcoming wedding or even by the worst means possible, locking her inside the house so she cannot leave. I understand why Tamlin did the things he did but it doesn't mean it was right. If only he'd listened to Feyre more or could really see that she was becoming a shell of a person after what happened with Amarantha under the mountain, then she wouldn't have felt like she needed to leave.
After Rhysand saved her at the end of ACOTAR and she now has to spend one week of the month with him. Through their magical link he created with Feyre he can connect with her at any time. So when Feyre simply can't take no more at The Spring Court, without realising it, she calls out to Rhysand and he takes to The Night Court away from Tamlin. It's there that Feyre starts to heal and starts to become a stronger person. Rhysand doesn't make her hide away, he confines in her, lets her help him sort out problems with the upcoming war and more importantly he trusts her and includes her in things whether that be with his court, family or just normal day-to-day stuff.
The main reason I was so adamant that I wasn't going to read ACOMAF was because I'm really not a fan of relationship changes. But I really shouldn't have doubted Sarah J Maas because Feyre and Rhysand's relationship is developed over time and at times you don't even realise what's going on and before you know it you're swooning over Rhys too. He creeps up on you and then it's like Tamlin who? I could sit and talk about Rhys for hours and hours – the things he does in this book, the things he revels, the way he is, it's honestly no wonder why Feyre and Rhysand belong together.
ACOMAF isn't just about Feyre and Rhys, although they are a huge part of it but it's also about the upcoming war and developing the story more. There's a lot going on and I can't wait to see what happens next. And I definitely think my lesson is learned – never doubt Maas again!