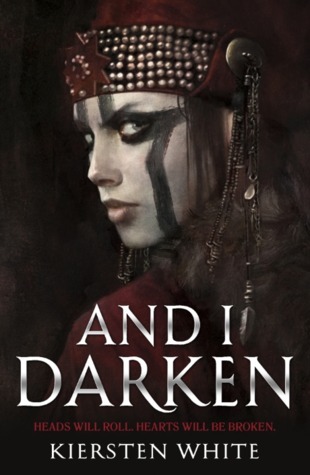 Posted by
Donna
Release Date: July 7th, 2016
Finished Date:
May 27th, 2016
Publishers: Corgi Childrens
Genre:
YA, Fantasy
Source: For Review
Format: Paperback
Pages: 498
Buy:
Amazon UK
/
Amazon US / The Book Depo
No one expects a princess to be brutal. And Lada Dragwyla likes it that way.
Ever since she and her brother were abandoned by their father to be raised in the Ottoman sultan's courts, Lada has known that ruthlessness is the key to survival. For the lineage that makes her and her brother special also makes them targets.
Lada hones her skills as a warrior as she nurtures plans to wreak revenge on the empire that holds her captive. Then she and Radu meet the sultan's son, Mehmed, and everything changes. Now Mehmed unwittingly stands between Lada and Radu as they transform from siblings to rivals, and the ties of love and loyalty that bind them together are stretched to breaking point.
The first of an epic new trilogy starring the ultimate anti-princess who does not have a gentle heart. Lada knows how to wield a sword, and she'll stop at nothing to keep herself and her brother alive.
The Review:
I adore unique stories. I adore them that much that I'm always looking for new books to try and when I stumbled across And I Darken by Kiersten White I couldn't wait to read it. A re-telling of Vlad the Impaler but changed so it's a story about a female princess, it sounded amazing. However the premise did not live up to my expectations and honestly it was utterly disappointing.
I admit the first 100 pages and I was hooked. I didn't mind the fact the characters were very young for a good portion of the book – 13 and 14 years to start with. It certainly didn't read that way and I actually enjoyed reading about them being young and how they came to be with their current situation. But, as I read more I slowly starting losing interest and that's because NOTHING HAPPENS FOR MOST OF THE STORY. I kept waiting and waiting for something to jump out at me but it was utterly boring. I enjoy historical stories but I think this story was so over hyped that I expected so much and instead of getting a badass warrior princess we got a little girl that pretends she a badass, mainly because she doesn't do any killing in the book other than in self-defence. She's more talk than action. She trains all day to become a better warrior but doesn't actually go out to battle. She's not brutal. She doesn't do much at all.
Lada and her brother Radu were mildly likeable characters but spent more time swooning over the love interest Mehmed who had completely no redeeming qualities about him. The way he treats Lada was shocking. He has wives and children and also a harem of ladies. But then of a night time he's confessing his love for her while also using Radu's feeling for him for his own gain. It's appalling – bearing mind he is only a young lad himself but he was not a male lead I was swooning over. For someone like Lada that tries to be as strong as she can, she is just like a teenage girl with a school crush when it comes to Mehmed. And the same goes for Radu. He's in love with Mehmed too so Mehmed gets a lot of time on the pages. Every page was filled with both of them thinking of him, or talking to him, or more thinking of him. You all know how much I love romance in books. I can't live without it but this was wrong. This wasn't good. It was too much.
As I neared the end of the book I was pretty hopeful that there would be something coming that could save the story and make me love it but there wasn't. Nothing could save this book or change my mind that I would be reaching for the sequel when it releases. There's too many parts of the story that is dragged down by political talk, religion and unneeded information that just made the story far too long and add that along with the character issues I had, it's safe to say I didn't enjoy this story at all.
Thank you to
Corgi Childrens
for giving me the opportunity to review this book in exchange for an honest review.