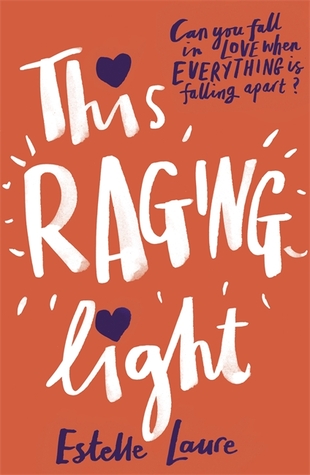 Posted by
Donna
Release Date:
January 14th

, 2016
Finished Date:
January 2nd

, 2016
Publishers:
Orchard Books
Genre:
YA,

Contemporary, Romance
Source: For Review
Format:
Hardcover
Pages:
320
Buy:
Amazon UK
/
Amazon US / Book Depo
How is it that you suddenly notice a person? How is it that one day Digby was my best friend's admittedly cute twin brother, and then the next he stole air, gave jitters, twisted my insides up?

Lucille has bigger problems than falling for her best friend's unavailable brother. Her mom has gone, leaving her to look after her sister, Wren. With bills mounting up and appearances to keep, Lucille is raging against her life but holding it together - just.

A stunning debut to devour in one sitting, Laure captures completely the agony and ecstasy of first love.
The Review:
"Explain to me what the point of living is if you aren't willing to fight for the

truths

in your hearts, to risk getting hurt.

You have to rage."
This Raging Light is a fantastic debut by author Estelle Laure. Perfect for both younger and older fans of the YA contemporary genre that love lyrical

stories.
Lucille's family has fallen apart. Her father had a mental breakdown and now is

no

where to be seen and her mother just can't take it any more and has left Lucille to look after her 9-year-old sister on her own while she goes on vacation to try and deal with her issues.

The p

roblem is Lucille's mother hasn't come back and now the bills are piling up and there is no food to eat in the house. Knowing she must do everything so

that she and

her sister survive but more importantly that no-one finds out about her situation because otherwise they could be taken into foster care because Lucille isn't yet eighteen, she does what she has to. She gets a job working and with the help of her best friend and her best friends brother Lucille tries to jugg

le everything at once.

But the one bright spot in her disaster of a life if

D

igby, how can she have such int

ense feelings for someone when the rest of her life is so out of control?
This Ragin
g Light ha

d

everything I love from a YA contemporary story - drama, angst, trouble

and

romance. If anything it has something more to give. It's not just a love story although that's one of the highlights f

or me but

it's a powerful and heart-breaking story about abandonment and how a teenage girl does everything in power to keep her and her sister sa

fe. I

for one wasn't expecting much before I headed into this story so I'm happy to say it was definitely a great way to start the new year with this being my fi

rst read for 2016.
I loved the characters. Lucille,

D

igby, Eden seemed to work so well together and their friendship is really tight. I also loved that Lucille could turn to to Eden's family for help. Her mother was so supportive, something that Lucille's mother should have

been.
For me this book was a serious of emotional events and come the end of the book I was seriously in tears. I couldn't predict how it was going to end. But when it did I was both filled with happiness and sadness. I wish there was more. I wasn't ready for the story to end because I felt there was some stuff left open but overall I really enjoyed

this book.
Thank you to Orchard

Books

for giving me the opportunity to review this book in exchange for an honest review.